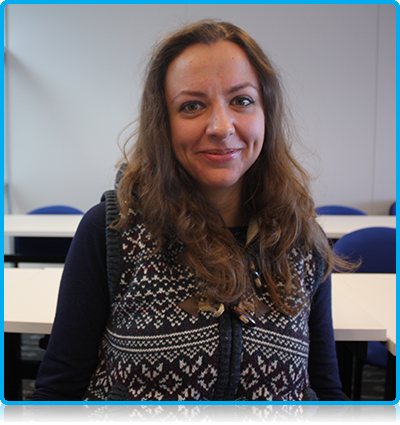 WUAS attracts students from all over the world, including Ukraine - the Eastern European country locked in severe military conflict since last year. New Wittenborg student, Iryna Bernatska, described in an interview how the ongoing fighting impacts Ukraine's economy and its people - like herself - for who there is no reprieve from fear and worry except hoping for a better future.
Iryna, which part of the Ukraine do you come from?
I was born in a small city, Chernivtsi, in Western Ukraine. It is a cozy place where everyone knows you. However, it was boring for me to stay in a quiet city and the last 4 years I stayed in Kiev and Odesa. Kiev is still one of my favorite cities. I love it there.
Why did you decide to study in the Netherlands?
I visited the Netherlands before and I really like this country. I feel comfortable in a multicultural society where people are free to say what they think and what they want, a society where I can share my work experience and acquire new knowledge. Also, it was easy to find a programme I wanted to apply to.
Why did you choose Wittenborg?
I was contemplating two universities and decided on Wittenborg for of few reasons: First of all, I got clear answers from the university on all my questions, secondly the entry dates suited me and finally, but very importantly, the tuition fees were lower.
Is there peace in the part of Ukraine where you come from?
Generally, yes. There were a few small terrorist attacks but the government ordered stricter monitoring of the city, so the military presence and police control reduced the number of attacks.
How did the fighting in the Ukraine affect your life there?
The situation in Ukraine has affected the lives of everyone. There are military operations conducted every day. Many young men were forced to leave home and their families to fight and many never made it back home. Everyone is worried that their son, brother, husband or friend will be mobilized and never be seen again. The Ukrainian currency has depreciated, and the minimum wage is 29 euros per month now. All the big companies and sole traders who import goods to Ukraine bear losses because of currency instability. In those circumstances people do not live, they survive. But there is also a positive side: The patriotic spirit and desire to build the future of our country woke up in Ukrainians.
After doing the Foundation Phase, what will you study at Wittenborg?
I am going to apply for admission to the Master programme but have not yet decided which specialty.
Do you plan on staying on the Netherlands after your studies?
Yes, I would like to stay in Holland or in another country, where I can find a job that will help me to realize my ambitions and to get a decent salary. I would like to be useful to society.
How would you describe the education system in Ukraine?
I think the education system in Ukraine is good but outdated. As for me, it is better to keep up with the times and adapt to new technologies.
How has your first few weeks at Wittenborg?
They were informative and interesting. I tried to understand how the educational system works in Holland while adapting to new rules. Everyone was nice to me and time passed quickly.
What do you do in your free time?
I am fan of traveling and cannot stay at home for a long time. I try to use every opportunity to go out and discover this great world around me.
What future do you hope for, for your own country?
There are many smart, intelligent, hard workers in Ukraine, who try to survive. I wish all of them to be appreciated, to earn money and to not worry about their future and their lives. I wish prosperity to Ukraine and I deeply hope everyone will have long-term plans and will not destroy the future for instant benefit.
WUP 18/4/2015
by Anesca Smith