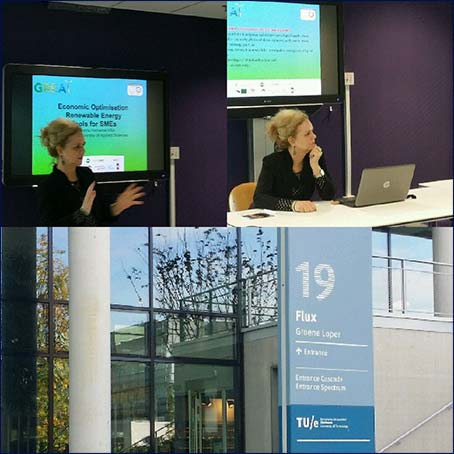 WUAS's GREAT-team recently presented their research findings in the field of renewable energy at the Technical Institute Eindhoven (TUE).
After running for 3 years, the EU-funded GREAT-project has its final policy conference in Brussels in September. Now it is presented at various conferences and meetings. WUAS is one of the Dutch partners in this cross-border project which seeks to accelerate the deployment of Smart Grid in North-West Europe.
GREAT (Growing Renewable Energy Applications and Technology), an EU-project under the INTERREG IVB NWE programme, aims to encourage SMEs and collectives of SMEs to develop and apply sustainable renewable energy solutions.
The TUE meeting was part of the Grid Series organized for PhD researchers in the field of Electrical Engineering and Applied Physics. The Wittenborg presentation was done by Dr Saskia Harkema. She presented the outcomes of an exploratory research carried out in the Netherlands and Belgium around challenges in the diffusion and adoption of sustainable energy solutions among SMEs. In total 14 attendees came to the meeting.
She also showcased a tool developed for SMEs which helps them to assess pay-back time of investment in Renewable Energy technologies such as wind, solar and heat-pumps. The meeting was organized by Madeleine Gibescu in October.
WUP 30/11/2015
by Anesca Smith
©WUAS Press