Joy of Returning to 'Almost Typical' Academic Year
This year, the number of students physically attending classes was higher compared to the start of the previous academic year. However, some students still opt to join lessons online thanks to the hybrid policy and the decision made by Wittenborg not to eliminate the use of online tools completely, such as Moodle and MS Teams. Students and staff attending in person can be seen wearing masks in all public and common areas.
"It is good to be in touch again with the joy of my job," says lecturer Andreas Ooijer referring to the experience of the first physical session with his students at the Wittenborg premises in Amsterdam after a period of one year.
Ooijer further expressed his excitement at being able to meet students and staff physically. He sees his students as an audience and so emphasises the importance of having to see them in person. The only challenge he has discovered was the inability to share the same in-class experience with students attending online. "I find it very interesting and great catching up with some of the students and colleagues," he said.
Beside a few technical glitches at the start, the lecturers are performing an impressive job trying to address students participating both physically and online. Making sure no one is left out, lecturer Fjorentina Muco continued to hold Q&A sessions regularly during classes to increase active participation. Other than the obvious academic benefits, the strategy also allows for students online to be engaged fully throughout the class.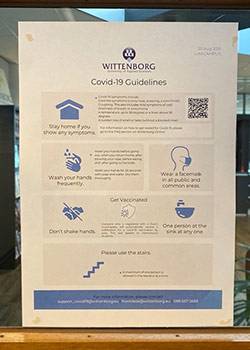 Notices about COVID-19 regulations can be seen all over the campus in Apeldoorn, common areas were quiet compared to typical campus days, and students and staff are urged to wash their hands regularly. Masks are required in public and common areas.
Wittenborg prioritises the taking of adequate precautions to keep everyone safe, while providing the international classroom experience to all students.
WUP 2/9/2021
by Kavindya Samarakoon
©WUAS Press