10 Wittenborg Students Graduated at Brighton Ceremony
There was a wonderful feeling of hope and elation in the air when 10 students from WUAS graduated along with about 3,000 others from the University of Brighton, UK, last weekend. Brighton is Wittenborg's main education partner, offering joint bachelor's and master's programmes to Wittenborg students. All-in-all 18 Wittenborg students graduated from Brighton this semester, but only 8 managed to attend the ceremony.
The group consisted of graduates from both Wittenborg's Amsterdam and Apeldoorn campuses. They are Nadia Zaman (MSc in Event Management), Nathaniel Ukachukwu (HBA) and 8 BSc top-up double-degree students from Amsterdam - Rosemarijn van Reenen, Brisi Dimova, Olivia Kawuma, Nichola Addo, Andrii Chaban, Angelica Shamsurova, Nahla Hmeidi and Abdoul Mounirou Ouedraogo.
The group was supported by Wittenborg's Head of the School of Hospitality and Tourism, Esther Gitonga, and Myra Qiu, University of Brighton Programme Coordinator. The graduation ceremony was led by Brighton's Vice Chancellor, Professor Debra Humphris. She said: "I am incredibly proud of all of our students, proud of the diversity of nationalities that make up our institution and proud of our role in developing the much-needed professionals, innovators, and leaders of the future. I wish each and every student success in their chosen careers."
Nathaniel was one of the students whose family came from afar to support him on his special day in the UK. In an emotional Facebook post he thanked them for their support, and said: "Thank God for giving me the courage to confront my fears and conquer all the challenges."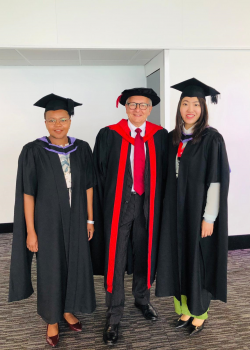 Qiu said: "The students were so excited at the ceremony - the cheerful atmosphere made everyone even more enthusiastic."
Wittenborg currently works with the Schools of Business, of Service Management & Sport and of Education at the University of Brighton, and also with the Centre of Teaching & Learning, for staff development and academic support.
WUP 9/8/2019
by James Wittenborg
©WUAS Press