Wittenborg Students Do Project on Apeldoorn's Ambitions to Attract International Investors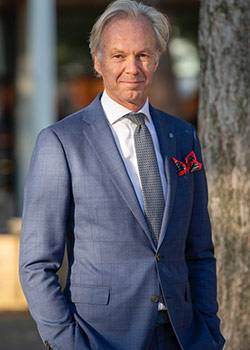 Apeldoorn Alderman says City Appreciates International Talent Wittenborg Brings in
Apeldoorn, the city where WUAS has been located for the past 10 years, believes it has all the necessary ingredients and ambition to attract international investors and businesses without compromising its spot as "the green heart of the Netherlands". Alderman Jeroen Joon of the Apeldoorn City Council spoke to Wittenborg undergraduates about these ambitions as part of the first Project Week of the new academic year, which requires students to draw up an advisory for the city on how to lure international businesses to its location. Joon was interviewed by Wittenborg CEO Maggie Feng in an online video made accessible to students.
Wittenborg established strong relations with the city from the start, and most of its graduation ceremonies take place in the city hall buildings with either the mayor or other dignitaries acting as keynote speakers. Joon in his interview recognised these ties and said the city appreciates the fact that Wittenborg brings many international students to the area, studying and living.
According to Joon, who is in charge of the economy portfolio, the city is already looking towards 2040 in terms of planning and is preparing for a population of between 100,000 – 200,000. "Currently we have about 12,000 companies in the region with a bit more than 100,000 employees or jobs. Our companies are very diverse and I believe that is also the strength of the city – both before and during the corona crisis. Businesses range from logistics to technology to healthcare and insurance."
At the same time, Joon said the city wants to maintain its green, open spaces and safety, as well as lots of sport facilities and educational institutions of which Wittenborg is a part of. "It's in our DNA and we want to keep it that way." To succeed, he added, there needs to be good cooperation between government, business and education.
He also had a word of encouragement for Wittenborg students: "We want to wish you all the best. We know it is a difficult time and it might be hard to understand everything, but try to get the best out of your studies. One day we will be able to meet each other live and get to talk."
WUP 16/09/2020
by Anesca Smith
©WUAS Press