African student, Nicola Ojoka Faka Serge, has such an inspiring life-story that he was recently featured on the front-page of de Stentor, as well as other Dutch media.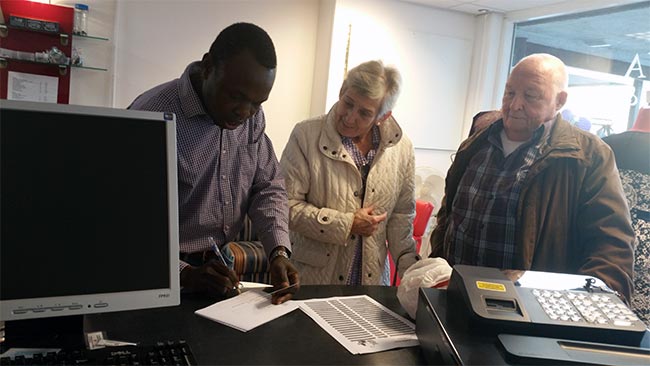 Starting from humble beginnings, Nicola started a clothing business 3 years ago, which he ran from home in Apeldoorn. With much perseverance and patience, he was finally able to open shop in a busy part of Apeldoorn this summer, using his own savings to buy equipment and pay rent on the small shop he proudly shows off to visitors. The shop is called Lawa Textiel Service.
In fact, business is going so well that every few minutes a customer walks in, who he assists in perfect Dutch. "Only about 2% of my clients are international, the rest are all Dutch."
Nicola is doing an IBA in Economics & Management at WUAS in ApeldWittoorn, but has deferred his studies to focus on his business for now. He repairs clothes, adjust them and also makes his own design, focusing mostly on African clothes and fabric. He is assisted by another Wittenborg student, Blessing Uririe, who is doing her internship at his shop.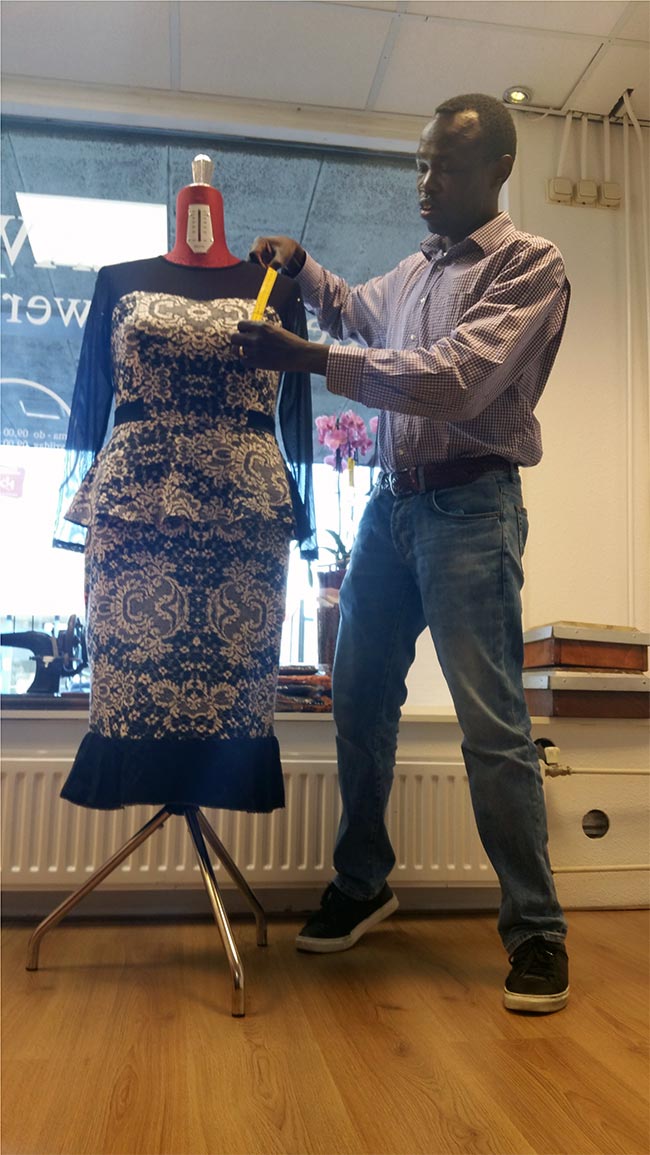 Blessing is from Nigeria and the two work in perfect, quiet harmony. She is also doing an IBA in Economics and Management at Wittenborg. "The past few months I have learned so much. Mostly, I help Nicola with administration and finance, but he also taught me some tailoring."
In fact, Nicola currently has 3 intern vacancies in his shop and has the necessary paperwork required to provide internships. He invited students who are interested to apply. His contact information is on the shop's Facebook page.
Nicola came to the Netherlands 15 years ago, fleeing the civil wars in South Sudan that has plagued the land-locked central African country for many years. He learned tailoring from his father who had a workshop. "As a boy he expected us to help out in the workshop. I was always resisting it, saying I want to be an engineer or a lawyer. Now I am earning my bread doing what my father did. I'm back at my roots!" he laughs.
Arriving in the Netherlands, he trained as an auto repairman and worked as one for several years. "I like the clothing business more. As a mechanic, you are at the back of operations and do not interact with the customers. Your hands also become very dirty!"
His plan is to expand the shop and also start selling his work and services online. Has his business increased with all the media publicity? "Yes, it has definitely helped."
WUP 2/11/2016
by Anesca Smith
©WUAS Press