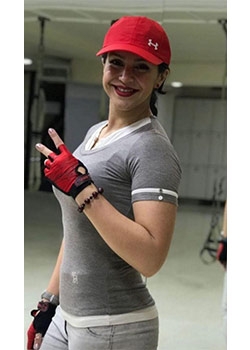 Elnaz Hashempour from Iran not Afraid of Facing Challenges
With 14 years of experience in the fields of sports and sports therapy, Iranian student Elnaz Hashempour, who is pursuing an MBM degree in Sports Business at Wittenborg, decided she wanted to explore new horizons. In February 2021, Hashempour moved from Iran to the Netherlands where, apart from her studies, she is also doing an internship and working part-time for Club Pellikaan Apeldoorn.
According to Hashempour, her track record helped her stand out in the eyes of recruiters, and she was offered her part-time job while still in Iran, after sending an email with her résumé to the club. "Every student who wants to find a job or internship must know their specific skills and how to advertise them. Even though I am qualified in different areas, when applying for jobs I highlighted my experience as an aqua-fitness instructor, because when you show your potential employers you are specialised in one field, that increases their interest," she advises.
After some months studying at Wittenborg and working as an instructor, Hashempour was accepted for a five-month internship in internal management, also at Club Pellikaan. Since October, her routine has been hectic but she says she is used to working hard to reach her goals. "I am 31 years old and I started working in sport when I was really young. I have made many efforts to progress in my career, because that is what I love to do. Just two years ago, around the time when I decided to emigrate, I was diagnosed with thyroid cancer and had to undergo surgery and chemotherapy, but I did not give up, because nothing should hinder you from achieving your goals," she says.
In her job as an aqua and body fitness instructor, Hashempour has had to face challenges such as cultural and language differences. "Apart from the different work culture, at first it was hard to gain the clients' trust, because I still do not speak Dutch, but I have always behaved professionally and eventually they accepted me. I will start having Dutch lessons in the next few days, because that is a priority for me, but I am very happy that I have managed to make many friends and I feel I have become part of a community," she says.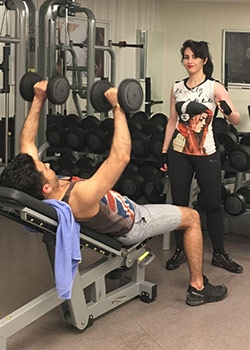 In her view, the most rewarding aspect of her profession is the fact that she can help people have a better quality of life. "At the club, many of my clients are elderly people, and I feel really happy when they tell me I have helped them relieve their pain. It gives me positive energy."
As an internal management intern, Hashempour has been performing tasks related to marketing, customer relations, business administration, event management and human resource management, among other areas. Coupled with the MBM programme she is pursuing at Wittenborg, she says this will be crucial to her next career steps. "Although I had owned and managed two sports clubs while living in Iran, I felt that I also needed the academic, theoretical knowledge. Studying at Wittenborg has been very important to me, and I have learned a lot from the courses I am taking. This will be very useful in the future, because my plan is to become a club manager."
Reflecting on her own experience, Hashempour says that doing an internship is an important professional step for students. "It will make them familiar with professional environments and help them learn how to communicate with people. On top of that, they will gain more self-confidence and problem-solving skills. When you are an intern, you are not expected to know everything, so you are allowed to make mistakes and learn from them to become a better professional."
WUP 16/2/2022
by Ulisses Sawczuk
©WUAS Press