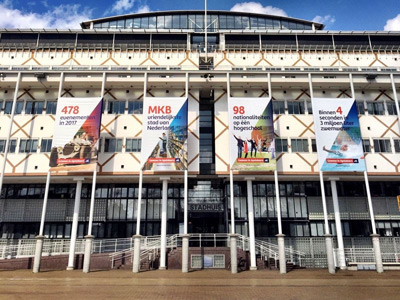 WUAS features prominently in a new marketing campaign by the Apeldoorn Gemeente in promoting the city as a great place to study, to do business and to relax.
If you walk or cycle past the city hall in Market Square these days, you will see a 3-storey high poster featuring Wittenborg students and one of its Apeldoorn campus locations. It proudly exclaims the fact that Wittenborg has had a student body of 98 different nationalities the past three years. It is flanked by 3 other posters highlighting what else the city has to offer. Furthermore, it can be seen in several other promotion materials around the city.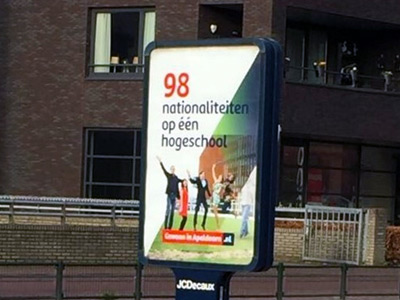 Since Wittenborg moved from Deventer to Apeldoorn in 2010, it has maintained excellent relations with both the local government and the Gelderland province, as well as political parties and businesses in the region. Just recently Wittenborg's CEO, Maggie Feng, went on a trade mission to China with, among other delegates, Apeldoorn city councillor, Alderman Johan Kruithof, and Michiel Scheffer, D66 member of Gelderland's provincial executive. Kruithof regularly speaks at Wittenborg graduation ceremonies.
For the past two years, WUAS has been the fastest growing institute of higher education in the Stedendriehoek region where it is located, encompassing 7 municipalities and home to more than 413,000 people. The region has more than 28,000 businesses.
Feng said in an interview she believes one of the reasons behind Wittenborg's success is being in tune with development in the region, and also the establishing of strong links plays a key role. "Our programmes in tourism and hospitality correspond well with tourism in the Veluwe, our technical training with robotics and the manufacturing industry, and our sport and health programmes with the care sector."
WUP 20/4/2017 by Anesca Smith
©WUAS Press