Wittenborg Representatives Visit Uganda, Rwanda and Zimbabwe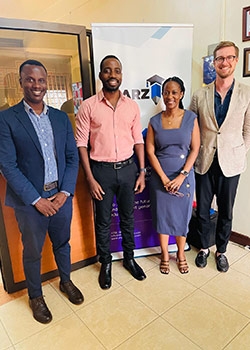 Michael Sheppard and Sam Kalya Promoting the School in Africa
With the goal of promoting Wittenborg in Africa and networking with local student agencies and schools, Recruitment & Sales representatives, Michael Sheppard and Sam Kalya visited three of the continent's countries last month. Between 7 and 18 August they went to Uganda, Rwanda and Zimbabwe, having been to the nations' respective capitals of Kampala, Kigali and Harare.

The two representatives had over 20 meetings with student agents during this period and also visited two schools per country, where they talked to career advisors and did presentations to the students. The latter focused on topics such as life in the Netherlands, the courses offered by Wittenborg and how the school works.
Sheppard described the trip as a dynamic, intense and exciting experience, adding that its outcome was very positive and that both the students and agents from all three countries showed lots of enthusiasm about the Netherlands and Wittenborg.
"The students see the Netherlands as a well-developed country, with a very high standard of living, and which has a lot of business and life opportunities. They perceive it as a place where they can go to in order to fulfil their potential. When it comes to Wittenborg, they see it as a really internationalised school that gives them really good opportunities to understand business in a global way and to understand people in a global way as well. So, our goal and challenge is to take people's enthusiasm, which is already there, and turn it into many people actually following through and ultimately coming to Wittenborg," he commented.
According to Sheppard, the fact that Kalya is originally from Uganda as well as a Wittenborg alumnus enabled him to connect with the students. "Sam was there to learn the process, and his main contribution was firstly organisational, because he organised the school visits. But he also helped by being able to connect with the students that we met, because as a Wittenborg graduate from Uganda, he could offer them a unique perspective and invaluable insights."
Among other topics, the students asked questions about what life in the Netherlands is like on a day-to-day basis, as well as how easy it is to make friends at Wittenborg. "We highlighted that making friends at Wittenborg is very easy because the school has a small number of students and a family atmosphere. The students are often concerned about their happiness, of course, so we made sure to mention that the Netherlands is one of the top 10 happiest countries in the world," Sheppard underlines.
Kalya highlighted that this was the first time he had travelled internationally with the purpose of promoting an organisation. "At first, I was a little nervous about it, but going with Michael on this trip really helped me because I was able to learn a lot from him. He has represented the school in different parts of the world, and I loved his confidence and his style of presentation. He continuously engaged me in the process as he asked me to share my perspectives as a former African student at Wittenborg. This helped build my confidence, as well as my presentation, networking and communication skills, and I am grateful to Michael for being such a wonderful guide."
The Wittenborg graduate added that, during their presentations, Sheppard and he brought attention to the fact that the Netherlands has the largest proportion of fluent English speakers outside anglophone countries such as the United Kingdom, the United States and Canada. "This helped increase the interest of the student agencies and schools we engaged with, and I believe that it will contribute to attract more students from those three countries to Wittenborg," Kalya concluded.
WUP 20/9/2023
by Ulisses Sawczuk
©WUAS Press