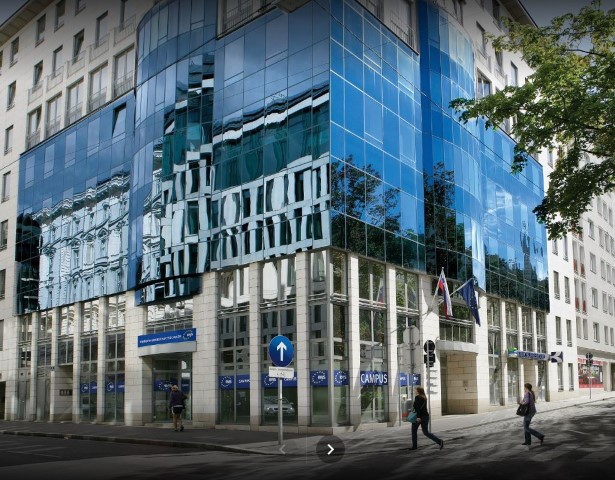 In its first transnational move, the management of WUAS (WUAS) has announced it will open a new study location in the heart of Vienna, the capital of Austria, in September, 2017. In this endeavour it will partner with one of the oldest vocational schools in Austria, EWS (Europa-Wirtschaftsschulen Wien).
Wittenborg has expanded rapidly over the past 6 years, last year opening a second facility in the Dutch city of Apeldoorn as part of the Spoorstraat Higher Education Campus, as well as a location in the capital Amsterdam. Wittenborg has many education partners in Europe, most notably its main partner, the University of Brighton in the UK. The Wittenborg Vienna Campus will be its first international branch.
The announcement was made this week by Wittenborg's chair of the executive board, Peter Birdsall, during the first general staff meeting. "This is a completely new market for us. Austria has a vastly different international student market from the Netherlands. We hope to open new frontiers by attracting students from countries like China, which has so far not been hugely attracted to Austria. But also from a host of other countries like Slovenia, Russia, Poland and Germany. We think there will be a big interest," Birdsall said.
Wittenborg already has staff members located in Vienna, including Tim Birdsall, Wittenborg board member, who co-manages WiNet, the commercial "Brand Incubator" company associated with Wittenborg. Also situated in Vienna is Denis Schuh, the university's webmaster.
Wittenborg lecturer and researcher Dr Alexander Bauer, who returned to his home city Vienna last year after spending 18 months teaching in Apeldoorn, will become head of academics at the Wittenborg Vienna Campus.
The coordinator of Wittenborg's School of Hospitality, Esther Gitonga, also announced in the meeting that Vienna will be added as an optional study destination for Wittenborg's hospitality students doing the so-called EuroBA programme that allows them to study in different countries. Gitonga said that although the programme's content will remain the same, the choice of location will be modified to include Vienna. Students will also still obtain a double degree, one from Wittenborg and one from the University of Brighton in the UK, upon graduation.
Last week, Wittenborg was visited by the managing director of EWS, Dr Ingeborg Kühling-Garfield. During her stay Dr Kühling-Garfield spent time at Wittenborg's two locations in Apeldoorn, meeting with Peter Birdsall, chair of the executive board, and Wittenborg CEO, Maggie Feng.
EWS in Vienna was founded in 1964, aiming to offer alternative study paths for business students in Higher Education rather than research universities, focusing on a jointly developed European curriculum by and with EWS's many European partners. It was the first European programme of its kind in Austria, with the main aim of increasing employability in Europe. The EWS education concept dates back to the end of the 19th Century, and the school already has a Memorandum of Cooperation and progression agreements with the University of Brighton.
EWS is located in the heart of the city, and the partnership with Wittenborg will include facilitating the Vienna Campus. EWS will also work with Wittenborg on the development of programmes in Vienna, allowing its own students the opportunity for an international experience extending from their own studies there.
Wittenborg will offer its range of BBA and MBA programmes in Vienna, following exactly the same curriculum and planning as in Apeldoorn, from where the programmes will be administrated, with students all being officially registered at WUAS in Apeldoorn. According to Wittenborg's student registrar, Santosh Aryal, 'This exciting new opportunity for students will in theory allow students to follow one or two blocks of the curriculum in Vienna, or in Apeldoorn, having an exchange experience that fits perfectly into their timetable. Of course, it is more likely that students will opt to spend a year abroad, rather than only part of the year.'
WUP 5/8/2016
by Anesca Smith