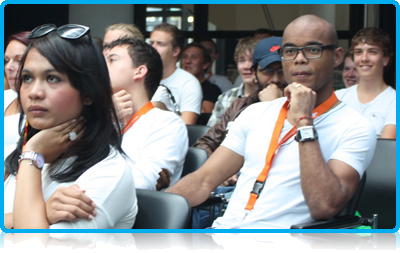 Apeldoorn is one of the ICT centres in the Netherlands and boasts numerous companies and organisations from the private and public sector who offer ICT services or solutions. Companies such as HITT (Holland International Traffic Technology), Be-Informed, and government organisations such as Belastingdienst (Netherlands Tax Office) and Kadaster (Netherlands Land Registry) fuel a growing need for local HRM investment in the ICT management profession.
Especially important for Wittenborg are the internationally operating companies such as HITT, who have offices around the world, including North America and China, and operate fully in English, however also the organisations who are locally orientated can benefit from the global input that Wittenborg graduates can bring, in the form of work placement, research projects and possibly as knowledge migrants. This programme will help promote the ideal that WUAS is a globally orientated institute, committed to acting locally.
The ICT Business Administration will focus on bringing students with a technical or mathematical background knowledge and competencies about the management of projects and processes within an organisation, introduce students to financial planning and strategic management, as well as provide modules looking at ICT implementation within different sectors. During the programme, students will also be encouraged to develop their ICT skills and competencies, through modules that look at the current trends and technology being used by companies and organisations in the Netherlands.
WUP 07/09/2012
©WUAS Press
Links: http://www.apeldoorn-it.nl/
HBO-opleidingen starten in Apeldoorn
ROC Aventus en Wittenborg starten het komende studiejaar met HBO-opleidingen op ICT-gebied. ROC Aventus begint in samenwerking met Saxion een Associate Degree programma (tweejarig HBO), terwijl Wittenborg een volledig bachelor programma gaat aanbieden.
Apeldoorn-IT is in gesprek met beide opleidingsinstituten. Het streven is om te komen tot een convenant waarin afspraken gemaakt worden over de inhoud van de studie, gastdocentschappen en stageplaatsen.