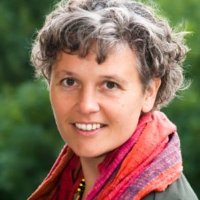 What makes for a good MBA programme? At WUAS class activities such as lectures, discussions and case studies are combined with industry exposure through visits to companies.
The coordinator of Wittenborg's School of Business, Dr Rauf Abdul, said industrial visits provide students with an insider view on the internal workings of companies. "It is an excellent opportunity for students to learn the practical side of business and not just the theory as provided in the classroom."
Another element of Wittenborg's MBA programme is to invite innovative guest lecturers such as Marjon van Opijnen.
Van Opijnen has vast experience in social sustainability and justice in the Europe, Africa and Asia. Among others she has worked for Doctors Without Borders and Triodos Bank - one of the most sustainable banks in the world.
In her students she wants to instill a sense of responsible business practices and has taught at Wittenborg since 2015, guest lecturing MBA students on new ways of doing business in the economy of tomorrow and IBA students on Leadership in the Business Environment and Managing Diversity during Project Weeks. "I once worked for a company who was preaching sustainability but not practicing it at all. That was a turning point for me."
After she co-founded the programme Leaders for Economic Change, she started developing programmes to equip young professionals with the skills to come up with innovative and sustainable solutions for tomorrow's economy.
"New Economy as well as sustainability are not clear in their meaning and how they should be applied in business and society. Even though almost everyone feels the need for change, few have an idea about how to make the required push to shift an established paradigm. Fewer still have a clear vision on what the future (new) economy will look like and are able to realize systemic change beyond the many pioneers that are booming."
"In my classes I try not to teach, but to create an environment that stimulates and motivates student to challenge their own learning. The class should be a living example of the world we want to create. Because we ARE that world. Therefore my classes are never the same, each topic needs a different set up to ensure full cognitive, emotional and embodied experience of the topic." Van Opijnen explores the theories of the past and debates whether they are fit for the future. She searches for new ways of doing business in the emerging future. "This often challenges the mind-sets of students that have been brought up in our current economic paradigm." She sees it as her duty to enable students to learn the skills they need in the increasing dynamic complexity that we see around us which requires new solutions for the challenges we face. "Furthermore, I want students (and everybody else) to live their full human potential, which is much more than just the cognitive."
WUP 5/12/2016
by Anesca Smith
©WUAS Press