Wittenborg in Liverpool at the ICEF Workshops and EAIE!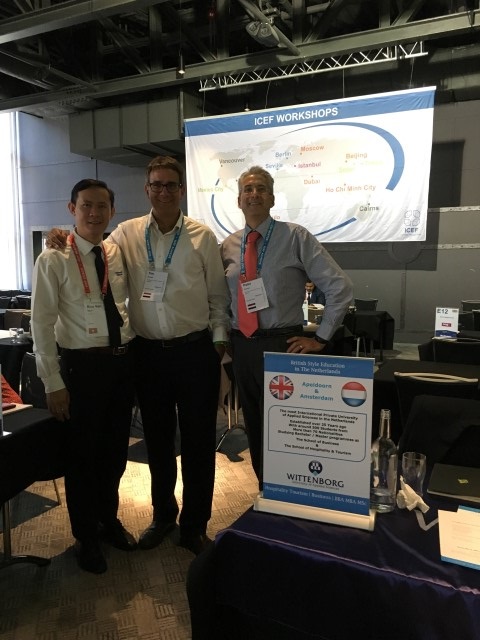 WUAS is in Liverpool this week at the ICEF Workshops and at EAIE (European Association of International Educators)!
This week Wittenborg is attending the ICEF Higher Education Workshops in Liverpool and the EAIE, and Board Member, Peter Birdsall, has a full schedule booked to speak to agents, partners and representatives of colleague institutions.
He has been joined at the ICEF Agent Workshop by Tim Birdsall, who is representing the new initiative to launch programmes in Vienna next year. Together they are concentrating on promoting programmes such as a the double degree in hospitality management, which uniquely allow students to spend time in three different countries during their studies.
During day one, the pair have spoken to representatives and study advisors from across the globe, and the Wittenborg programmes have been received positively. Especially the double degree in Amsterdam, focusing on Entrepreneurship and Small Business was highly popular, as was the news that students would be able to complete part of their studies in Vienna.
During the rest of the week, Wittenborg will be joined by Amsterdam Campus head, Timo Timmerman and head of the School of Hospitality and Tourism, Esther Gitonga, as they continue meetings aimed at forming strategic partnerships internationally, both at the ICEF Partner forum on Tuesday and at EAIE from 14th to 16th September.
If you're in Liverpool - visit us at the EAIE - our stand is 603, and we are also helping out at the 'Study in Holland' Stand 600.
WUP 12/9/2016
by Wittenborg