Wittenborg lecturer Teun Wolters' Working Paper series elicits lively debate among colleagues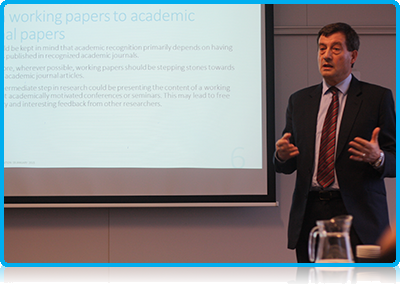 This week WUAS's applied research professor in corporate sustainability, dr Teun Wolters, presented the first of a Working Paper series.
As he explains, having Working Papers – which presents initial research outcomes and new ideas for further research – is common procedure in universities.
"In other words, it gives researchers the opportunity to present their first ideas. It is part of the so-called 'grey literature' which can be developed later into fully-fledged journal articles."
Wolters presented the work to peers and colleagues at a special event on Monday. The paper reports on a research project executed last year in the Dutch health care sector involving a care organization in Apeldoorn, the city where Wittenborg is located.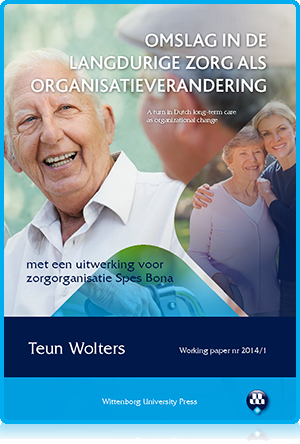 "The organization is undergoing a major transition as a result of external changes in Dutch long-term care policies," Wolters says in his summary to the paper. "Wittenborg was asked to execute research to measure and interpret the ability and willingness of the organisation to turn the formulated vision on the needed change and new direction into reality. This year there will be follow-up research, which can be done now that the new organisational structure is clear and is being tried out."
According to Wolters one of the main objectives of the presentation is to promote the idea of doing working papers and applied research among other researchers at Wittenborg. Also to present his approach – one which includes low budget projects that makes sense, both academically and practically "…as an example to colleagues encouraging them to also produce something – whether alone or in collaboration with others. For instance, they can use their own experience and knowledge to write 30 or 40 pages as a proposal for research which can perhaps lead to some sort of project."
What are the benefits for a university like Wittenborg to get involved with research projects like this? "If you want to develop yourself towards a full-fledged university, research is a basic thing," Wolters says matter-of-factly.
Wittenborg actively promotes the services of its Research Centre to the public and private sector. However, Wolters – who has more than 30 years experience as a researcher – cautions that a balance must be struck. "You must build up your own identity and must take care not to rely too much on outsiders. Collaboration is always important in research but you must also build up your own identity so that you are not just seen as an agent. The community should know what it can expect of you."
Wolters' presentation on Monday led to a lively discussion among his audience. Wittenborg director, Peter Birdsall, sees a working paper as a possible stepping stone in researching the impact of foreign students on a national scale within the context of internationalization in Dutch higher education.
The Head of Wittenborg Business School, Abdul Rauf, suggested Working Papers might be useful in identifying a stream for Wittenborg research.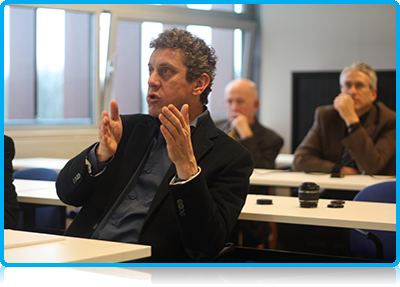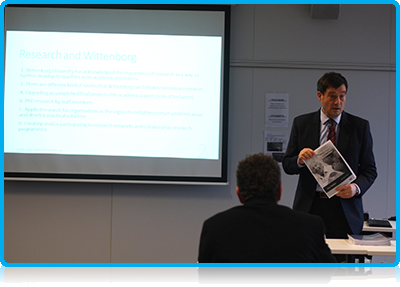 How did the Working Paper come about? "I did active acquisition of it," says Wolters. "I contacted one of the long term care organizations. But you see, it is not very easy to get access. We have no previous experience in the health sector and I tried in different ways. I met someone in Apeldoorn whom I knew from before and I told him my ideas. He is the chairman of the organizations' Clients Council and since he thought it was interesting we formally brought it up in the organization. That led to the suggestion that I should do some research there.
"So, first of all we wanted to do something for the local community and the health sector in Apeldoorn is a big sector – many people are working there. Secondary, Wittenborg's management has plans to set up a School for Health Care."
Wolters says he hopes his presentation will spark some ideas. "In some instances new materials can be combined with final-year projects. The student can then be involved in the creation of the Working Paper, but I feel the main author should still be the lecturer."
Currently he is working on a second paper - on change-management. "An external specialist who wrote quite a few books about the topic made a paper of 40 pages including ideas for research and I am translating it into English."
WUP 20/1/2014
Download PDF:
"A turn in Dutch long-term care as organizational change" a WUAS Working Paper 2014-1 by Dr Teun Wolters
by Anesca Smith