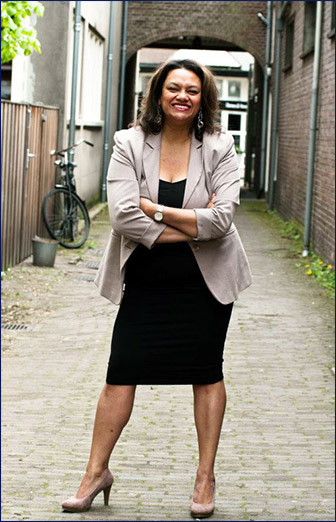 Lucinda Douglas, inspirational speaker and lecturer at WUAS, has been nominated for the Netherlands' 2016 Ethnic Business Woman of the Year Award. She is the first woman from Apeldoorn to receive the honour.
"I was pleasantly surprised because there are so many phenomenal business women in the Netherlands. However, now that I've been nominated, I want to win," says Douglas who navigates the limelight with ease, warmth and a lot of passion.
Douglas is a female entrepreneur and international herself who moved from South Africa to Holland more than 22 years ago. Yet, she vividly remembers growing up in a segregated country that afforded scant opportunities for people of colour.
Arriving in the Netherlands, she worked her way up from au pair to highly successful business woman with a long list of accomplishments, including being a talk-show host for the Dutch-Caribbean channel RTV7, and author of the book Sales is Sexy. She made a profitable career in sales working for TNT Express, but decided in 2009 to leave and start working on her own business goals. Beside her career she is a wife and mother of two daughters and a son.
Yes You Can Woman
Her flagship product is her empowerment programme "Yes You Can Woman" that optimises the talents of women within an organisation, so that they can grow on a business and a personal level. She also gives organisations and female entrepreneurs advice and inspiration via her shows, lectures and personal coaching, which is the other product she offers.
Learn that "no" is not an option
"Lots of women enter entrepreneurship, but they have no commercial skills. They have the products and the idea, but no notion of how to enter the market. I help them with that. Women don't always communicate in the way that would make their business a success. They say one thing and hope for a certain outcome. You have to learn that 'no' is not an option. If the answer is 'no', there are 99 other ways to get around it."
At Wittenborg, Douglas teaches the modules Marketing Mix and Marketing Plan for undergraduate business students, as well as hosting several seminars.
Does the tag "ethnic woman" bother her? "I like the idea, because Holland is a fantastic country, but the position of women is not what it should be. And the position of ethnic women is a disaster. She is invisible and has many complexes such as: 'I'm not good enough'."
Douglas advises women who want to make it in business to make themselves more visible. "Start networking and seeing yourself as someone who can change the world. Lots of women act like victims, not the survivors we need for the next generation to go on. Especially in smaller cities or towns. Big cities like Amsterdam and Rotterdam have fantastic programmes to empower women."
The 2016 Ethnic Woman of the Year winners will be announced on the 29th of October at a gala event. More information on Douglas and her products can be found here.
WUP 17/10/2016
by Anesca Smith
©WUAS Press