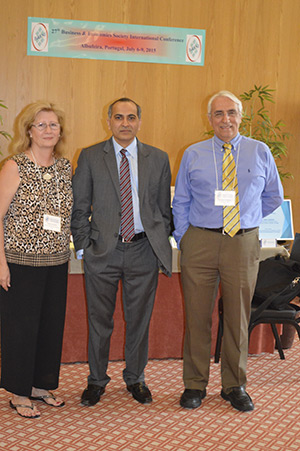 One of Wittenborg's visiting lecturers, Muhammad Ashfaq, recently presented his latest research paper "Emerging Trends and Opportunities in Digital Manufacturing" in Portugal. The presentation was part of the 27th Business and Economics Society International Conference held earlier this month. The bi-annual conference attracts scholars from all over the world and gives an opportunity for researchers to share their innovative ideas.
Ashfaq highlighted the fact that the manufacturing industry has undergone significant changes in recent years, especially due to the advancement in information and technology as well as the advantages it holds for the sector. He outlined some of the most important findings with the conference:
"The advancement in technology has paved the way for digital manufacturing around the world and it comprise of many aspects such as advanced manufacturing, additive manufacturing (AM), 3D printing and Cyber-Physical Systems (CPS). The advantages of digital manufacturing for the industry are highly promising such as decrease in product development duration and cost. Digital manufacturing brings opportunities and challenges for the industries of various countries. It has profound impact on all the aspects of a modern day manufacturing industry because of innovation through digital product design, digitizing the factory shop-floor, globalizing through digital supply chain management and digital customization of marketing sales and services."
Ashfaq added that industry has a huge significance for the European economies. "According to a European Commission (2010) report, the European single market consists of more than 500 million consumers, 220 million workers and 20 million entrepreneurs. Furthermore, in the European Union 1 in 4 people is employed in the private sector while another is indirectly employed in an associated sector. More than 80% of research and development (R&D) is carried out in the private sector. In addition, in the aftermath of the financial crisis of 2007-09, the need for innovative and competitive, industrial manufacturing gained the attention of European leaders and industrial manufacturing was outlined as an innovative growth model in the Europe 2020 strategy."
He expressed thanks for the appreciation of his research and said: "I am really delighted to participate in this conference and it was amazing to meet and take part in discussions with the world's leading researchers. I would like to thank my colleagues at WUAS who always supports me in my research activities".
Ashfaq has been working as visiting lecturer at WUAS since June 2014. He teaches modules in both the IBA and MBA programmes.
WUP 29/7/2015
©WUAS Press
by Anesca Smith