Daniel Freeman's Interests Include Sports and Cooking
Since he was a child, Wittenborg lecturer Daniel Freeman had the dream of participating in an international sports competition and winning. Freeman, who is originally from Rhode Island, USA, had aspired to be a baseball player, but at 11 years old his life took a different direction when his coach had a stroke after yelling furiously at the team.
"That killed all the fun, so I ended up finding out about javelin and decided to give it a try at school. When you are younger, they have you throw a small plastic javelin which is called a turbo javelin, and that is what I started with. I was 12 back then, and I loved it and never stopped; it was a great outlet for me to meet people and to slowly build up confidence," he recalls.
As the years went on, Freeman worked toward his goal of becoming a professional athlete, facing difficulties like the lack of financial support. Even so, he persisted, following a disciplined routine of practice, which included three to four hours each day in the weights room, doing different exercises, as well as three weekly sessions of javelin throwing outside. Additionally, Freeman also spent more than three hours per week watching videos of his own throws, as well as other athletes' performances, with the goal of finding ways to improve his technique.
In 2017, he was given the opportunity to compete internationally at the Maccabiah Games, in Israel, under the sponsorship of a company. "That was, by true definition, the first time that I competed professionally, and I knew it was my best chance. I worked really hard and managed to win the gold medal in what was definitely the most memorable moment of my career as an athlete, because it was the realisation of a dream," he says.
Apart from javelin, Freeman has practised and coached other sports, such as weightlifting, shot put, discus and hammer throw. He has been involved in coaching for over a decade, having started at the high school where he completed his secondary studies, and regularly works at a summer camp that is targeted towards young athletes ranging from ages 14 to 18.
With an MSc degree in Exercise Science and Sport Management as well as a doctorate in Education of Global Sport Leadership, Freeman teaches two courses at Wittenborg: Community and Sport Development for bachelor's students, and Strategic Sport Business at master's level.
He says he is really happy to teach at Wittenborg and highlights how international the institution is. "I had students from more than six countries in one of the master's classes that I taught, and if you told me that while I was getting my bachelor's degree I do not think I would have believed you. It has been an incredible opportunity to expand my own knowledge by understanding the backgrounds and the experiences of the students that I teach, and I am very grateful for that."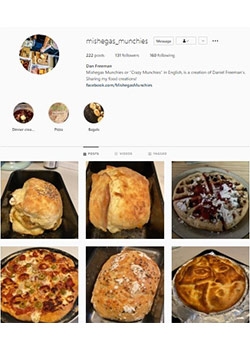 Cooking
Besides sport, Freeman is also passionate about cooking. He discovered this hobby when he was nine years old and baked his first rosemary bread, during a school activity conducted byone of his teachers. "Something sparked that day, because even though I had baked with my grandparents and parents when I was younger, that was the first time that I was really able to create food with my own hands. The reason I love cooking is that no matter what I do in life, it allows me to express my creativity in a completely free way," he stresses.
Because of his athletic activities, Freeman has sought to follow a healthy diet, but he says he is not a picky eater. Regarding his favourite dishes to cook, he mentions pizza and breakfast food. "Home-made pizza is tough, because there are so many different ways to make it from scratch that it is a real challenge, which I love. When it comes to breakfast food, I love cooking potatoes and making omelettes and although they are very simple, the art is in the detail. I often buy seasonings from Africa and the Middle East, which are great. The challenge is figuring out how the spices coexist together and add another level to the food."
Under the username @mishegas_munchies, Freeman is active on Instagram, where he posts pictures of the food he creates. He describes the account as a "sharing space" where he can interact with other people who enjoy cooking. "People from all over the world interact with me, and sometimes they ask me to put up recipes and give tips on how I have cooked a certain dish. I have also had comments from professional brands on photos that I had tagged them in, as well as from large Instagram accounts. It makes you feel really good when someone you probably would never meet in life can see your work and compliment you on it."
Asked about the meaning of the word "mishegas", he explains that it means "crazy" in Yiddish, adding that he chose it not only because of his Jewish heritage, but also because humour is important for him.
"I try to give funny names to all of my social media accounts. My personal Instagram profile, for example, is 'danthejavman'. This is because humour is an important tool for me, both as a lecturer and coach. Although you have to be honest and direct with people when giving feedback, you also need to connect with them on a human level, and using humour is definitely a way to achieve that."
WUP 12/2/2022
by Ulisses Sawczuk
©WUAS Press