Three years of hard work have paid off for Wittenborg lecturer, Muhammad Ashfaq, who recently completed his PhD in Finance, defending his thesis at Tübingen University in Germany (on a cooperative PhD program between Coburg University of Applied Sciences and Tübingen University).
"I have not had a weekend off for two years! Now I have to look for a new challenge," said Ashfaq who has been teaching at WUAS since early 2014, and lives with his family in Germany.
On how he managed to complete his studies while teaching at two universities in Germany as well as at Wittenborg, Ashfaq said he learned the power of self-discipline. "I committed myself to writing at least one page a day. I would prepare my research in the evening and come in to my office at 6am in the morning while everything was still quiet, and write until 10am when the students start arriving.
"Both my supervisors – Prof. Randall and Prof. Khalfaoui – were very supportive throughout the whole process. Most importantly, it would have not been possible without the enduring support of my wife and my parents. Sometimes, I saw my only child after two or three days, despite working nearby in my office, because I came home late at night and left in the early morning."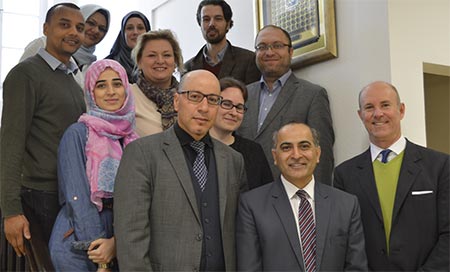 His research topic looks at the knowledge, attitude and preferences of Muslims living in Germany towards Retail, Islamic Banking Products and Services through Empirical Analysis.
"The most difficult part of doing a PhD for me was deciding on a topic – it took me six months because there are so many interesting topics, and you have to consider which ideas are viable, manageable and attainable in terms of data collection, etc. But in the end I was able to see it through and am happy that I achieved my goal."
While working on his PhD, Ashfaq travelled to many countries around the world to make presentations about his work. Late last year, he contributed to and co-edited two books, one of which is published in English and German. At Wittenborg he teaches to MBA and EMBA students.
WUP 22/5/2017
by Anesca Smith
©WUAS Press