Wittenborg Celebrates Summer Graduation Ceremony in True International Form!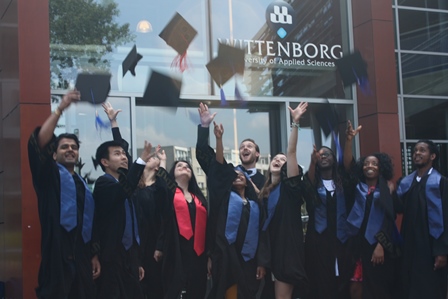 WUAS's Summer Graduation Ceremony on Friday was yet again testament to its reputation as one of the most international institutes in the Netherlands with this year's cohort of graduates hailing from 13 different countries!
A total of 14 graduates received Bachelor degrees along with 1 Master of Science degree graduate, Marina Valkovska (International Event Management), while another, Iryna Bernatska, received recognition for completing Wittenborg's Foundation course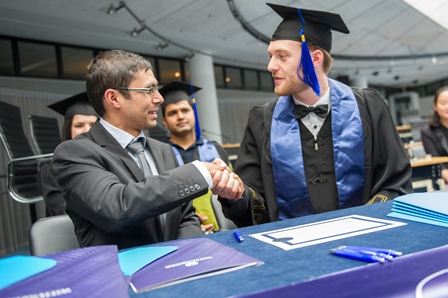 Wittenborg's Academic Dean, Dr Jacques Kaat, reminded students of the advantage they have over graduates from other schools because of their international experience. "Employment prospects are a lot better for international students, because they have 'transferable international skills combined with specialist knowledge'. You know culture is like an onion, you can peel away the layers and go deeper to get to the core, but on the surface you can see how different we all are. Difference in dress, customs, different foods. That's what brings spice and variety to life. And you are comfortable with it because you are global citizens. We should enjoy and celebrate those differences. I hope that during your time at Wittenborg you have acquired a natural curiosity for those kind of differences. And that you have learned to expect the unexpected. You have intercultural adaptability. As Wittenborg alumnus you have the edge."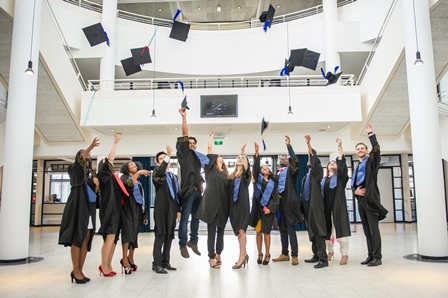 He also provided tips on navigating the job market. "You all may wonder: Will I get a good job? Very likely, yes. It depends on your motivation and drive. A good job does not fall in your lap, you have to work for it. And keep working on it. If the perfect job does not come along, don't wait for it to happen but go for something in a slightly different area. You can move along the career ladder in a straight vertical way, but you can also move sideways, horizontally. That is when you experience different fields, different disciplines. It brings variety to your CV and when you find the perfect job your manager will be impressed by your versatility, knowledge and adaptability."
Dr Kaat also reminded students of the advantage that they had earned an exclusive degree from an exclusive private University, something that would certainly stand out on their CV's and make an impression on future employers, as managers would recognise the fact that the applicant has invested in their future and gained their at an institute that promotes entrepreneurship, independent thinking and inter-culturalism and that much of this will have 'rubbed off' on its students.
Peter Birdsall, Chair of the Executive Board, told graduates that now their formal relationship with WUAS was over, the informal relationship begins, with a lifelong relationship between alumni and their University.
The IBA graduates are Santosh Karki (Nepal) , Mario Wolters (Germany), Maria Iqbal (Netherlands), LiangLiangh Jiang (China), Thabani Moyo (Zimbabwe), Nzambi Mpungu (Congo), Ishebo Twijukye (Uganda), Novrielza Wambrauw (Indonesia), Veerle Knechten (Netherlands), Agnes Ngono (Cameroon), Xin Tian (China), Jing Qin (China), Yvan Lopez Cruz (Spain) and Mariya Alpysbayeva (Kazakhstan).
As has been usual in the past years, the Graduation Ceremony has taken place once more in the grand setting of the debating chamber at the local government building of the municipality of Apeldoorn, situated in the centre of the town
WUP 17/7/2015
by Anesca Smith