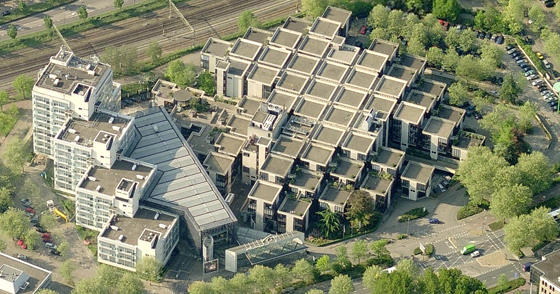 This week saw the launch of a real-life business project based on the re-development of the remarkable Central Beheer Achmea (Insurance) building, designed by the Dutch architect Herman Hertzenberger. The building was bought by the Real Estate Investment Corporation TCN in 2007 and will be vacated by the Insurance giant in the summer of 2013.
TCN currently has plans to redevelop this large building, situated on the edge of the city centre, and within easy walking distance of shops, bars, railway station and the City Hall, into the Apeldoorn Business Campus, which would include a combination of spaces for companies, education institutes and a hotel function with student housing possibilities.
This concept ties in with the aims of the city of Apeldoorn to encourage the growth of Higher Education in the city and the industries central to the economy of Apeldoorn: Management of ICT, Health, Human Resources and Manufacturing.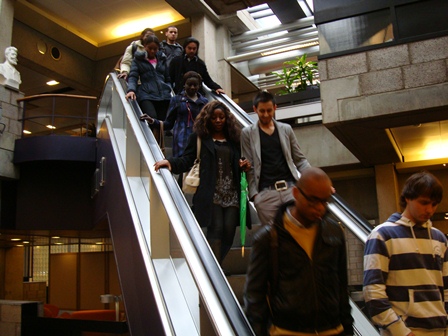 TCN has joined forces with Wittenborg Business School and its students to come up with outside-the-box ideas to re-develop the location.1st and 2nd year students have been formed into project teams of 4 or 5 and have been set the task of coming up with a viable business plan, whilst showing that they can work together in teams in a professional and efficient way. The project has similarities to the methods used in the well-known BBC series The Apprentice, in which entrepreneur Alan Sugar hires and fires young professionals based on their performance in project teams. "Of course students won't be 'fired'," explains director Maggie Feng, who is leading the project, "but students will be evaluated both as a team and on their individual performance. The project results will be evaluated by project managers from TCN and from the City Council of Apeldoorn, as well as Wittenborg management, and the winning team will be awarded a 'prize' – a day out at the Netherlands Television centre – Media Park- which is owned by TCN"
TCN, known for its playful dog logo, has been active in the European Real Estate market since 1994 and focusses on the transformation of existing buildings into comfortable, functional and safe living and working environments. TCN employs 200 staff and carries out projects in the Netherlands, Germany, the United Kingdom, Spain, Austria and Russia.