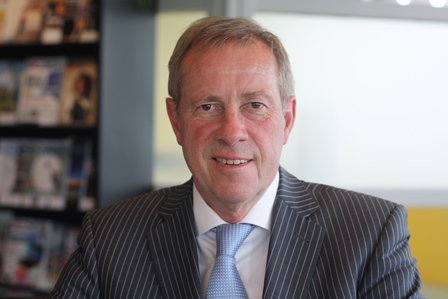 From September 2015 WUAS will offer its IBA in Entrepreneurship & Small Business at its brand new location in Amsterdam, bringing affordable private education to the city in an ideal learning environment which combines innovation with structured education.
So says the Dean of Wittenborg Amsterdam, Timo Timmerman, who fielded questions on BNR NieuwsRadio this week about what distinguishes Wittenborg's programme from other similar business training programmes in the city.
According to him now is also the ideal time for young start-ups to be based in Amsterdam as a city already bustling with young entrepreneurs and eager to attract and retain more. "There is however a need for structured entrepreneurship directed education combined with the practicalities and creative freedom to start your own business. We see more and more young people who want to do that and the city of Amsterdam stimulates that," Timmerman told BNR.
The emphasis of the Amsterdam version of the IBA programme will be on entrepreneurship with minors in Family Business, Corporate Entrepreneurship, Sales and Branding. WUAS's headquarters is in Apeldoorn where it provides education to international students from more than 50 different nationalities. It is expected that the new programme will attract an estimated 300 students by 2018.
Timmerman, who is the former founder and owner of the New Business School Amsterdam and until recently director of Nyenrode NBS brings a wealth of experience and contacts from both the business world and education sector to his new job at Wittenborg.
"Thanks to the international character of the education and the diversity of both students and staff, this entirely English-taught programme is also very appealing to Dutch students who want to start their own business and have international ambitions." Wittenborg's unique education model provides the opportunity for students to start with the programme at 6 different entry dates per year, which means they also have 6 different opportunities to graduate. Its small size ensures students enjoy personal attention for the duration of their studies while at the same time it boasts a School of Business and Hospitality with Schools of Health, Art and Technology as well as Education are planned for the future.
According to Timmerman modern technology makes it possible for students to treat the whole world as their learning environment. "As training provider you have to stand open to these possibilities. At the same time we will be based in a real building – in fact, a really beautiful one which is the UP Building on the shores of the Ij in the Heinkade."
Timmerman told BNR Wittenborg students in Amsterdam will have the opportunity to study as well as work abroad during the course of their training. In fact, Wittenborg recently sealed an agreement with the biggest NGO in the Philippines, Gawad Kalinga, who offers volunteer and social entrepreneurship possibilities to students. Wittenborg also has partnerships with institutes in Britain, France, Spain and Germany as well as China.
He says he believes students will strike the balance between work and studies easily. "If you work on something you have a lot of passion for than it is easy to work through the theory.
"In all my years in education it always surprises me why there is not smarter cooperation between the different sectors and why not make use of more online education and the appropriate technology that exists to support this. As a non-profit institute with top lecturers we will share the new location with other institutes of higher education from here and abroad and by offering affordable accommodation for students we want to make education accessible for anyone who wants to study in Amsterdam."
Is he nervous about attracting students? "Yes and no. Though our fee is considerably lower than other similar schools, there is still a fee. However, I believe our target group are those people who will pay a bit extra for the personal attention they will receive and the very real possibility of starting their own business and the support they will get in that respect. Don't forget, Wittenborg has already built up a considerable network and reputation among international students."
WUP 15/7/2015
by Anesca Smith