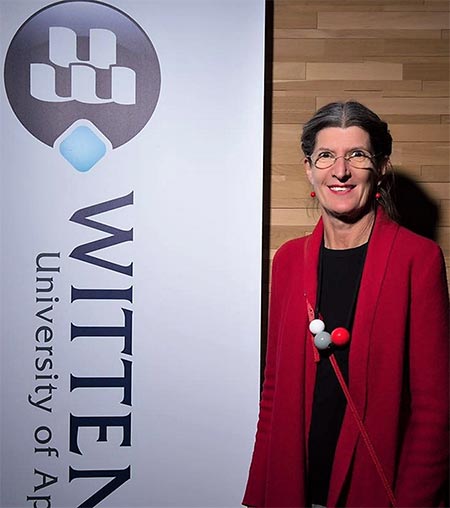 WUAS is delighted to announce the appointment of Dr Maria-Regina Kecht as its new interim Academic Dean.
Dr Kecht will be based in Vienna, Austria, where Wittenborg will open a new campus in September 2017. She was born and grew up in Austria, and spent almost 30 years in the US before returning to Austria in 2009. She holds a PhD in American Studies and Russian from Innsbruck University and a Master's degree in Comparative Literature from the University of Illinois in the US. She has one daughter (25) who lives in London.
What will be your priorities as interim Academic Dean at Wittenborg?
Given the interim nature of this assignment, it will be most important to familiarise myself quickly with the lie of the land and play a constructive consulting role with regard to all upcoming academic and accreditation issues. My many years of relevant experience should be useful for the team efforts required to implement Wittenborg's goals.
You will be based in Vienna. How will you navigate the transnational nature of the job?
In Vienna, I will be helping the Wittenborg team prepare and establish the proposed programmes to be launched in the fall of 2017. In Apeldoorn and Amsterdam, I will be working together with faculty and staff preparing the re-accreditation site visits and similar matters. Many of our meetings will be virtual and my physical location will be irrelevant in that context. Obviously, regular trips to the Netherlands are planned.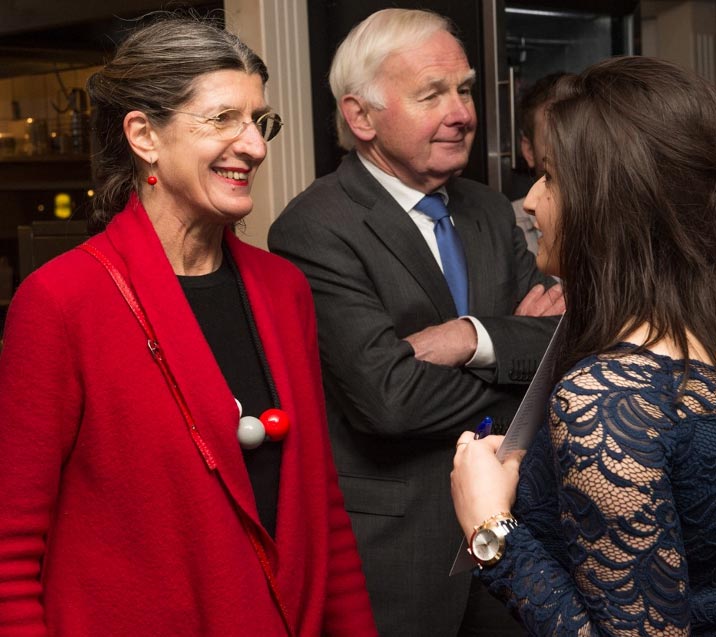 Why were you interested in working at Wittenborg?
I had been informed about the current projects and goals of Wittenborg, and when some consulting work became necessary regarding the Vienna site, our conversations generated the profile of an interim academic dean with tasks that must be done over the future months. I had served as academic dean at another private university and wanted to support Wittenborg's efforts.
You were an international student yourself. What are your views on international education? What can be improved?
When I was an international student – spending years of study in St. Andrews (Scotland), Moscow, and in the US – studying abroad was not yet the thing to do, even if you wanted to maximise your ability to be a constructive and innovation-oriented global citizen. It was the exception. Much has changed since then and the world has definitely become a better place with regard to the growing internationalisation of higher education. What may still need improvement is students' immersion in the target culture, so that they would indeed become adept in critical comparisons of "ways of world-making".
It seems a lot of students pick (or are encouraged to pick) the programmes they want to follow based on the job situation in the world. Do you agree with such an approach?
I was fortunate – circumstances of history, not anything else – that when I was young, it was easier to reach for the stars when it comes to employment opportunities. I studied literature and even though this was definitely not a pragmatic choice, but a decision solely based on my interests and passion, I succeeded in establishing my career.
Today, young people are increasingly worried about their employment opportunities – and their parents may also exert some pressure when it comes to the choice of field and degree. Given the fierce global competition in the labor market, I understand their pragmatic considerations. Hopefully, their choice does not exclude passion and interest.
What sort of student were you?
I am almost embarrassed to state that I always was a straight-A student, graduated "summa cum laude" and always just loved studying. I greatly enjoyed solving intellectual puzzles by reading lots of fascinating books and addressing some important issues in my field.
What troubles you most about modern education policies?
I find it most troublesome that higher education no longer makes it its primary business to instill critical thought and help young people become reflective and conscious drivers of system change. Churning out degree holders who are well-functioning cogs in a global machine is definitely not my idea of the mission of education.
What is the most important trait you try to instill in your students?
When I was teaching undergraduate and graduate courses – until 2010 – it was always very important to me to encourage students to recognise the power of the word and the compelling reality of our human imagination. Through such discoveries, students come to realise that it is up to them to shape the world and make it better (in all kinds of ways). Change starts in our heads!
What are the pros and cons about life as an academic?
Contributing to our students' academic discovery of the complexity of our world, and helping them establish important connections among different disciplines – that is one of the most gratifying aspects of being an academic. Being able to share ideas with many colleagues equally passionate about the world of the mind – that's also fantastic.
Perhaps, it is a negative aspect of the life of an academic that today's world has little appreciation of the processes of thinking, reflecting, and exploring ideas … instant practical application of any knowledge seems to be far more in demand. I am convinced, however, that in particular, the humanities and the arts will soon be in demand again.
What is the best piece of advice you've ever received?
Hard to think of the "best" piece of advice. Since I am a fairly impatient person, I guess, I have to keep reminding myself of the adage "Rome was not built in a day" when tackling any project. Patience and perseverance are very important when engaged in some major assignment.
Are you on social media? Do you think it's important for academics to be "plugged" in like this?
I am not really on social media, and I can think of plenty of arguments why academics should not waste their time on these media ... On the other hand, the young generation cannot imagine living without Facebook, Instagram, Twitter, etc., and if academics want to understand the young, they ought to be familiar with their channels of communication. I do not like superficiality!
Do you consider yourself a feminist? If so, how is this expressed in your work?
Yes, I definitely consider myself a feminist – this is manifest in my publications, the choice of writers, the choice of topics I have addressed in my literary scholarship. It is also clear from the types of courses I taught over the years at American universities.
What do you do to relax?
I am from Tirol and grew up amidst high mountains. Not surprisingly, I love hiking and spending my free time in the mountains. When I cannot escape to the mountains, I immerse myself in books or classical music. I am an avid reader, and spend many evenings a year at the opera or in the concert halls of Vienna.
Who has had the biggest influence in your life?
I think that my grandfather had the strongest impact on my life: he was a hard-working, life-loving, affirmative, and good-humored human being who never lost faith in progress and social betterment, despite the cataclysmic historical experiences he (and his generation) endured. Opa's optimistic approach to the world and his exuberant exploration of life have been exemplary.
WUP 21/1/2017
by Anesca Smith
©WUAS Press