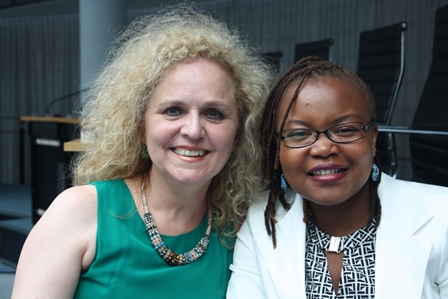 WUAS has teamed up with one of the top research universities in the world, Wageningen University, in joint supervision of PhD student, Esther Gitonga, who is also the coordinator of Wittenborg's School of Hospitality and Tourism.
Gitonga, from Kenya, is pursuing a PhD in exploring climate change adaptation options for marginalized tourism dependent communities in Africa. She holds a Master's degree in Leisure Tourism and Environment Management from Wageningen University after graduating with honors in Hospitality & Tourism management from Kenyatta University in Nairobi.
Alongside a promotor and daily supervisor from Wageningen, Gitonga also has a third supervisor from Wittenborg, Dr Saskia Harkema.
Harkema said not only is the collaboration with Wageningen an important one, but Gitonga's topic is highly interesting. "What is noteworthy about Esther's dissertation is that we are combining a very academic, scientific approach with a very practical perspective. The outcome will be very interesting. She is contributing to a specific body of knowledge while at the same time developing something that can be applied in Africa.
"Also, it is not common practice for a research university like Wageningen to work together with a university of applied science like Wittenborg," Harkema added. In the field of Agriculture and Forestry Wageningen is number 2 in the world according to the QS World University Rankings and number 8 for Environmental Studies. The Times Higher Education World University Rankings ranks it at number 73 of the best universities in the world.
As anyone who has ever pursued a PhD knows, the journey can be a long and arduous one littered with doubt and loneliness.
Gitonga, who started in February with her research alongside teaching and her tasks as coordinator at Wittenborg, says she has accepted the hard work that awaits. "If you want to achieve anything, you really have to be committed. If you are working full-time on your degree, it takes 4 years. I am doing 16-20 hours per week, so technically it should take me twice the time but I am hoping to do it in 6 years or even 5 years."
Gitonga, who grew up in a small village on the beautiful slopes of Mount Kenya in a family of politicians, says she was always interested in learning and being a professor. She has worked as a restaurant supervisor, consulted in hospitality start–ups and worked in higher education, both in Kenya and the Netherlands. "When I was working, I did extremely well, but I was not happy. At some point you just have to be honest with yourself and do what you love. I love knowledge."
She has just finished her proposal and there has already been challenges. "We faced some challenges in finding out if I will be able to get the data. I am working in developing countries so there are a lot of gaps in data since we are looking at changes over time and the data collected on climate attributes are not done every year. There are a lot of years where there are no records."
What motivates her studies?
"In developing countries there are a lot of information gaps – in tourism as well as other fields. It feels like while everyone else is progressing, we are always playing catching up. It might be a global world but we are dealing with very local issues where a one-size-fits-all approach does not work. For me, I see a black hole of information in Africa and I would like to contribute in minimizing that."
What is the value of a PhD these days?
"The value to society is that it gives stakeholders or practitioners a very sound scientific base or departing point towards understanding what is happening in society. What are the issues and what are the opportunities and finding solutions as oppose to staying in the dark. To the academic field it is an extra set of wheels to an already moving car of knowledge. Knowledge has to evolve the same way society is evolving. There's so much we don't know."
Gitonga, who as a little girl dreamed of traveling and meeting people of different cultures, says she relishes the intellectual and practical rewards that studying brings. "I love knowledge because I really believe it is power. When I see local communities struggling with problems and trying home-made solutions I know is not going to work, it breaks my heart. But they just keep going because they don't know any better."
WUP 23/8/2015
by Anesca Smith