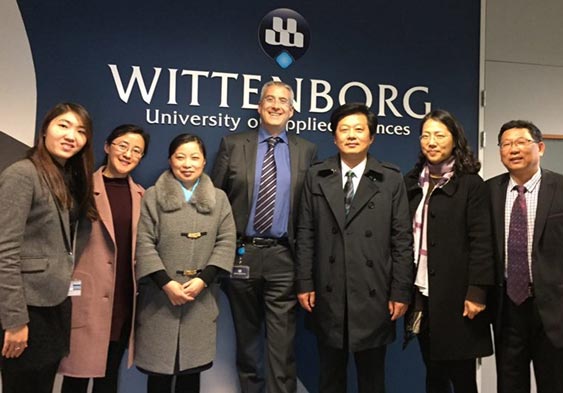 Senior staff of the Nantong Vocational University in China made a flying visit to WUAS on Monday, as part of a 4-day trip to the Netherlands to explore cooperation possibilities between the two institutes in the field of education.
Meanwhile, Wittenborg CEO, Maggie Feng, will in turn visit Nantong on Wednesday while she is in China this week as part of a week-long trade mission along with delegates from the Gelderland Province, Apeldoorn Gemeente and the Full Sports Group (FSG).
Nantong, in the southern part of China, has about 18,000 students. It has 12 schools offering 58 majors and 90 professional programs including mechanical engineering, electronics and information engineering, chemical and biological engineering, civil engineering, textile and garments, management, applied humanities and tourism management, arts and design and foreign languages.
Four of its senior staff members were met by Wittenborg chair, Peter Birdsall, on Monday who gave them background on Wittenborg and a tour of its facilities. The group consisted of Huang Yanfei (Vice-President of Nantong), Chen Xudong (Deputy Director of Academic Affairs), Cao Jian (Associate Dean, School of Automotive and Traffic Engineering) and Li Ping (Dean of School of Economics and Management). They were accompanied by an interpreter of China's department of Foreign Affairs, Shi Chunyan.
The group later also met with Mark Sandmann, D66 council member of the Apeldoorn Gemeente and Jacob Brobbel, commercial manager of Holland Techniek.
Sandmann welcomed the visitors and gave them background information on the region saying: "Apeldoorn is the 11th biggest city in the Netherlands in an area of more than 400,000 residents. Our city is centrally located in the Netherlands' largest single woodlands area, the Veluwe. We have a lot less air pollution compared to Nantong! The area is known as the Cleantech Region because of the high number of clean technology companies in the area – many of them do business with China."
Sandmann also said Wittenborg is growing and is now one of the most important institutes of higher education in the area. "Apeldoorn is home to many local and international companies due to its central location. I can assure you those companies are happy to meet international students. International students bring diversity into the city and also bring economic value to the community. Many shop owners in the city centre can confirm this."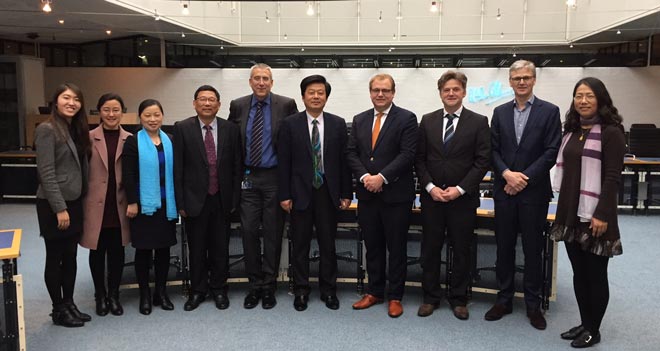 WUP 21/3/2017
by Anesca Smith
©WUAS Press