Wittenborg Accounting & Finance Lecturer Publishes Article on Corruption
Research Article on 'Corruption' published
Wittenborg scores another credit in the research & development arena with the publication of a peer-reviewed journal article by its Accounting and Finance lecturer, Dr Muhammad Ashfaq. The article, entitled 'Corruption and its diverse effect on credit risk: global evidence', was the result of research done by Dr Ashfaq and Dr Rashedul Hasan, a lecturer and researcher from the School of Economics, Finance and Accounting at Coventry University, UK. Dr Ashfaq, one of Wittenborg's active researchers, is also an established writer of several books on the topic of Finance, Ethics and Islamic Banking, and his extensive international background in the same field spans over 10 years.
In the article, the authors wrote that corruption is an important issue as it causes social and economic problems in society and is one of the obstacles for progress in developing countries. The research delves into the different classifications of corruption and how it affects the overall development of a country. Whether it is 'petty corruption', usually committed by low and mid-level employees by abusing power, or 'grand corruption', committed by the institution itself, either private or government, both are detrimental to society and hinder the pace of improving the life quality of citizens.
In the business context, corruption, bribery or extortion are big words that can make or break a company or country as they misallocate rewards among the stakeholders, and "some stakeholders gain more, who deserve less, than others who deserve more". Despite the negative connotations, such acts are not an anomaly and are relatively common in many countries, often embedded in cultures and norms. In fact, in many countries, they are standard operating procedures and often viewed as a business strategy by corporate executives.
The 'Grease or Sand the Wheel' Hypothesis of Corruption
The research findings reveal that corruption is a complex phenomenon, as it has mixed impact on institutional efficiency according to what is commonly known as the 'grease or sand the wheel' hypothesis. Corruption can 'grease the wheel' as it provides opportunities to positively contribute to economic growth and development, but with the compromise of bureaucracy and policies. On the other hand, and more importantly, the research recommends that governments should work more towards 'sanding the wheel' of corruption as it plays an adverse role in the sound operation of the banking and finance sector and, in the long run, affects the sustainable economic and societal growth of the country.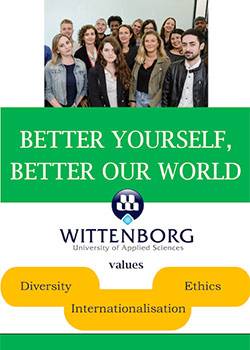 Wittenborg's motto of 'Better Yourself, Better Our World'
The issue of business ethics is gaining much popularity in recent years as businesses, business schools in higher education, and governments make efforts to deter firms and professionals from engaging in corruption and bribery. At Wittenborg, all of the programmes are based on its key values of internationalisation, diversity and ethics. These are the three pillars upon which WUAS intends to focus its strategy and build its quality system. The Wittenborg motto expresses the commitment to offer higher education where students and staff understand that ethics play a central role in their every decision. As commented by Wittenborg's Assurance of Learning Manager, Kriszta Rostas-Kaspers, "Wittenborg recognises its vital role in influencing and developing the next generation of business administrators and managers globally. Research that aims to promote ethical values, such as integrity, by addressing corruption and its adverse effects on society, clearly feeds into our ethical pillar. Our full support and congratulations, therefore, to Dr Ashfaq and his team."
Guided by well-established ethical and moral standards, such as honesty and integrity, Wittenborg strives to instil in its students these key values and encourages them to keep to the motto 'Better Yourself, Better Our World'.

The article can be accessed via this link.