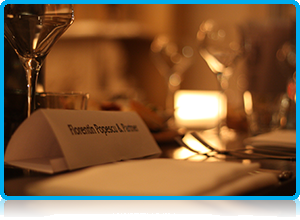 On Friday WUAS's lecturers, supporting staff and board members were joined by their partners Wittenborg's annual New Year dinner at a Restaurant in the village of Twello, just outside Apeldoorn.
The annual Wittenborg dinner serves both an entertaining and an informative role and during the event many Wittenborg relations got to know each other better, which enhances the cooperation between different departments and disciplines within Wittenborg.
Traditionally Peter Birdsall, Chair of the Board, and also current Director of Studies at WUAS, gave a reflective speech, outlining the most important decisions and changes from the previous year and the goals and objectives for the coming year.
In Friday's speech Peter paid special attention to thanking a few key staff members that, through circumstances, are no longer working for Wittenborg however also welcomed many new lecturers and new staff members who have joined Wittenborg in 2013.
"In relation to education, Wittenborg has made several big steps in 2013. The university has received Accreditation of the EBA programme, validation of the MSc Hospitality Management programme, has launched the EuroBA programme, a Bachelor of Arts in Hospitality Management, in cooperation with its partners in France, Germany, Spain and the UK's University of Brighton. Together with partners in Canada, the USA and Latvia, Wittenborg has started the development of a cutting edge "Gamified MBA "which resulted in a first real time simulation during one of the project weeks.
Another big step was the first publication of WUAS Press (WUP), the book "Sustainable Value Creation" by Wittenborg's own Teun Wolters. During 2013, Wittenborg has developed an International MBA programme that will challenge the best of students, and aims to develop its research projects in line with its academic programmes.
As for the future – the growth of Wittenborg in 2013 has proven to be a very fruitful, with around 320 students gracing the corridors of the campus and the student recruitment team has realized a 20% growth in student numbers, and of course the goals for 2014 are all related to this growth. The aim is to welcome around 400 students this calendar year.
To facilitate all these students Wittenborg is currently looking to expand its classrooms to a nearby location, very close by – this will become the Postgraduate and Research Centre. Although the exact location is still a well-kept secret, it will be close to Wittenborg, to the station and to the new Saxion Hotel School in Apeldoorn, which will be beneficial for all higher education in Apeldoorn.
Finally, as for Wittenborg's student accommodation, the directors of Wittenborg have decided to jump in and develop their very own student housing for their students. The details of this plan are still somewhat secret (!), but more information will follow during the year. … "
WUP 21/1/2013