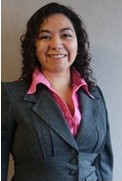 Wittenborg MSc student, Gaby Padilla, has secured a top-notch internship at a major multinational company hailed for its innovation in producing electric vehicles and rechargeable batteries.
BYD – which stands for "Build Your Dream" – is the world's largest manufacturer of lithium-ion batteries, servicing global clients such as Samsung HTC and Stanford University. Based in Shenzhen, China, it topped Bloomberg Businessweek Tech 100 list in 2010.
Padilla, who is doing her MSc in International Event Management at Wittenborg, is from El Salvador in Central America. She will start at BYD on 1 September, picking up work experience and doing research for her graduation assignment.
Wittenborg's work placement officer, Adrianne Jonquière-Breure, visited the company this week and said she was impressed. "The company wants to expand in Europe, and the fact that Gaby speaks Spanish is definitely an advantage. We always try to visit new companies where our students are working to make sure that it is suitable. Gaby is eager to learn, very optimistic and I think she will fit in well."
WUP 27/8/2017
by Anesca Smith
©WUAS Press