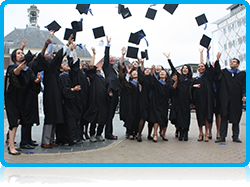 WUP 12/12/2014 - Joining Wittenborg's Alumni Network - why it should matter to you! Today Wittenborg published its first Alumni Newsletter, planned as a quarterly and is reaching out to all the students who have graduated since WUAS (formally Hogeschool Wittenborg) went "International" in 2003!
WUAS will be doubling its efforts in 2015 to create an active Alumni Network!
First, we would like to know how your experience and education at Wittenborg served your long and short term ambitions and are also curious about your current status and career development.
Therefore we would like to urge all our former students to make contact with the university by emailing alumninetwork@wittenborg.eu . We would also like to encourage you to complete our Alumni Survey which you will find here.
It is very easy to lose track of most graduates after they embark on their various career paths - even more so if they studied at an institute like Wittenborg with its international student base! We do however believe alumni have much to gain from actively staying in touch with their alma mater and they also have much to offer current students.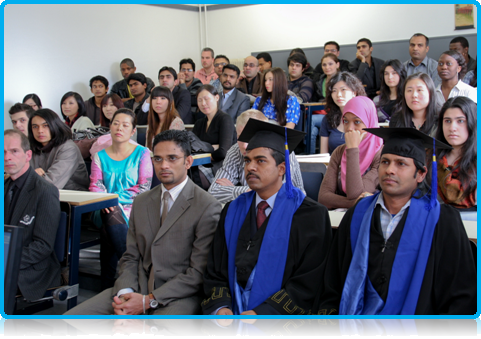 Why your participation matters
· An active Alumni Network can serve as a platform for potential business relations to interact.
· Alumni can act as role models for current students. Not only do they inspire but also encourage present students to stay involved with the university after graduation.
· The Netherlands is serious about retaining international talent for its economy. Therefore, detailed information on international graduates from Dutch institutes are sorely needed.
· Interacting with alumni and gaining their insight helps to ensure continued excellence at WUAS.
· A loyal base of alumni suggests a university has much to offer, thereby boosting its reputation and support in the private and public sector.
Please note: All Alumni of WUAS are offered a significant scholarships to its Master degree programmes. Contact us for details!
What has changed since you graduated?
In 2008 Wittenborg directors, Peter Birdsall and Maggie Feng, officially became the management board at Hogeschool Wittenborg, Deventer.



The Bachelor in International Business Administration was accredited in 2006 by the NVAO. Up until that point, all Wittenborg courses were offered in Dutch. In 2007 the university started its first English IBA programmes.
In May 2008 the name of the school changed from Hogeschool Wittenborg to Wittenborg Business School to attract more international students.
In 2010 Wittenborg left Deventer and moved to Apeldoorn where it continues to share a state-of-the-art building with ROC Aventus. Since the move to Apeldoorn Wittenborg's international profile has grown significantly. In 2012 the Bachelor (IBA) was re-accredited by the NVAO.


To fit its international character, the name of the school was changed again in 2012 - from Wittenborg Business School to WUAS.
As part of its long-term goal, the management board has designed a 10-year plan which will see Wittenborg divide into 5 centrally managed schools. These are:
1. School of Business
2. School of Hospitality & Tourism
3. School of Arts & Technology
4. School of Health & Social Care
5. School of Education
All 5 schools will have at least one Broad Bachelor course and one Master degree course. In this respect Wittenborg strives to become the first private, international institute in the Netherlands with broad degrees.
In the past four years WUAS has reached many milestones which it is proud of:
It has established a strong partnership with the University of Brighton in the UK, including three joint Master of Science programmes: the MSc in International Event Management, the MSc in International Hospitality Management and the MSc in International Tourism Management.
It has also partnered in creating the so-called EuroBA – a Bachelor of Arts in International Hospitality Management – which sees students studying in four different countries over a 3-year period: The Netherlands, Germany, France and the UK.



Wittenborg latest accomplishment is the accreditation of its Master of Business Administration (MBA) programme – due to start in February 2015 - by the German accreditation body, FIBAA. The MBA programme has three specializations: Innovation & Entrepreneurship, Hospitality Management and General Management.
Though Wittenborg has a strong international orientation, it also works closely with private companies and public institutes in the Netherlands, including organizations in the Apeldoorn region and Gelderland Province. Its motto "Think Global and Act Local" has become more relevant than ever.
WUP 10/12/2014