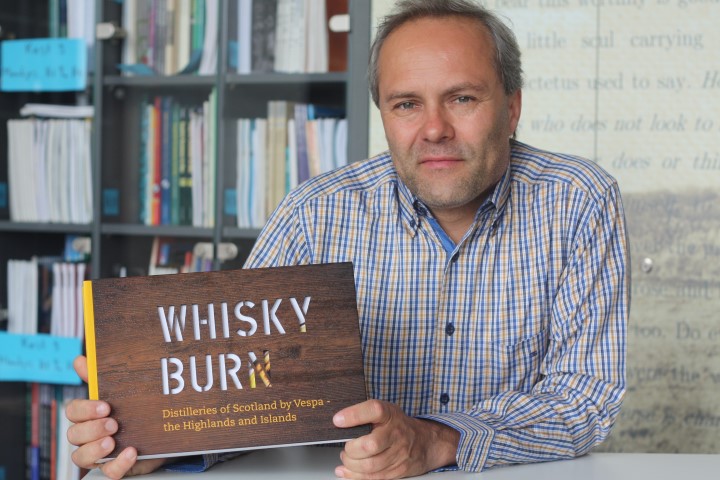 If you are a Scotch whisky fan and want to know more about the distilleries that produce them or fancy the idea of a journey through Scotland's highlands and islands, then British author and painter Ben Birdsall's latest book, Whisky Burn is for you. Birdsall spent one summer traveling for 3 weeks from one distillery to the other on his old Vespa, savoring the diverse range of flavours the region has to offer. Before Whisky Burn Birdsall published 3 travel books about Italy as well as a novel Blue Charm which was shortlisted for the Authors' Club of Great Britain Best First Novel Award. Whisky Burn is published by WUAS Press (WUP) and can be ordered here.
Why were you interested in writing a book about Scotch whisky?
My mother's side of the family is Irish, so I knew a lot about Irish whisky. While on holiday I visited a distillery in Scotland and realized how little I knew of Scotch whisky. That was a lightbulb moment. I'd already written 3 travel books about Italy and thought I would use the same format: going around with my 1979 classic Vespa, top speed 47km per hour, camping and painting. I looked into the feasibility of the trip before sending off emails to distilleries and getting an amazing response - all very promising, very welcoming. As far as I could see there were no other books quite like this. It's a whisky travelogue, a journey, a narrative. Then, one day I was there, in Scotland on my Vespa, starting the trip. I could hardly believe it.
Who is the book intended for?
I would say it is for people who, like me, know a little bit about Scotch whisky and want to learn more about the distilleries that produce them. It's not a book written by a connoisseur that grades the whisky. I don't give recommendations. It is a reference book for distilleries. It could also be for people going on holiday, wanting to do a similar trip. You could do it on a bicycle in the same time I did!
Are whisky drinkers getting younger?
I think it used to be kind of a 45+ year old, perhaps more affluent person who was identified with single malt Scotch. Well, that's changing. Tastes are changing. A wider range of people are appreciating it and there is a greater choice available. For instance, 20 or 25 years ago you wouldn't find many single malts in your local supermarket.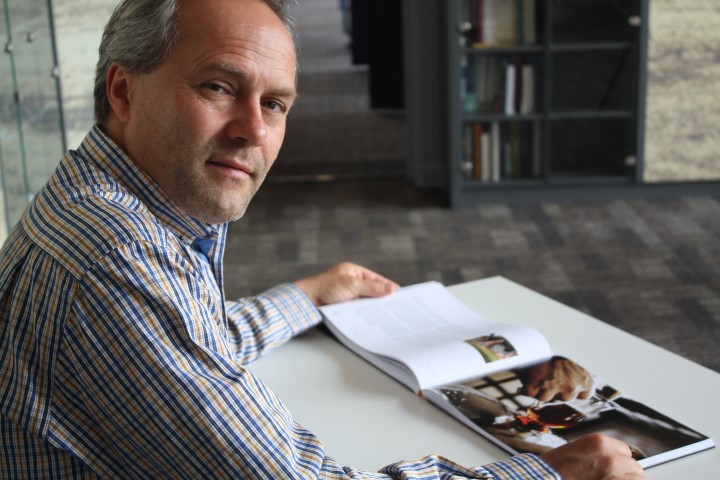 What do you love about the taste?
There is an amazing variety of Scotch whisky. It's not like vodka – which to my palate are all sort of the same - or even brandy or any of these other spirits. With whisky, each one is different from the last. Only 3 basic ingredients are needed: water, barley and yeast. Yet, they have managed to create this diverse range of flavors and flavor profiles. I like the smoky whiskies, which are mostly from the West Coast. That is where I headed first. Then, as you get into Speyside they become sweeter and more floral which appeals to more people. It is a complex taste. There are two types of whisky, blended and single malt.
Which do you prefer?
Single malt. The blended whisky is not to my taste, although you do get some very good blends. Single malt whisky is the pure product. It comes from one distillery and it's made only from malted barley. This trip was about single-malt whisky and the distilleries that make them. It's an amazing product. You can find something new every time you taste it. I didn't like it at first. When I tried it I thought it tasted like medicine but you learn to appreciate it.
How many distilleries are there in Scotland?
There must be close to 100. Many are not open to visitors. I planned the route around distilleries which either had visitor centers or were willing to show me around. I visited about 40. I was quite lucky to see a few you would not normally get into. More and more distilleries are realizing the potential of having visitor centers. I wanted to visit the distilleries that are independently or family-owned and the ones that made single malt whisky. A number of distilleries don't release their single malt, they sell it to blenders, so you never taste it. Or they only release a limited edition. I was interested in single malt whiskies that are readily available, but also in discovering those I had never heard of.
Are whisky tours becoming more popular?
Yes, they are. In Speyside, for example, there is the 'whisky trail'. It is a common pastime among tourists in Scotland. I was told the main origins for visitors to distilleries are Germans, but they're not particularly big drinkers. The biggest consumers are from France, the US, the UK and Russia.
There are already quite a few books on whisky. What distinguishes yours?
The fact that it is a narrative, a catalogue. It is written by someone who is learning as the book progresses. As I learn, so does the reader. There are plenty of books listing whiskies, telling you the taste you might find. I learned pretty early on that it would be a mistake to grade whisky because it is a very personal experience. I can taste apples or lemon while you taste chocolate. Everybody has different experiences of the whisky.
How do you know what is a good whisky if people don't grade it? Where do you start?
Good question. It's a learning experience. I would start with a distillery that sounds interesting, taste the house malt, then progress along the range from there. Usually, the older a whisky is, the more complex it gets. As you get to know the different whiskies, your favorites will come out. You can't know whether you'll like a whisky or not before trying it.
Were you not intimidated by all the nuances of whisky – the variety, the casks, the climates?
There are more than 3000 different whiskies, so yes. Every distillery has its house model. Usually they're 10-year olds. From that basic flavor profile they start to redefine it, usually with casks. Whisky is traditionally matured in bourbon casks or sherry casks. Bourbon gives the vanilla notes, sherry the fruity sweetness. The last decade or so they've really started experimenting with wine casks, rum and port. There is a baffling range. I would start with the standard 10 year old and if you like that start exploring.
Would you then say age is the true measure of a good whisky?
Younger whisky can be a bit spirity. Age is a guideline, but not to be relied upon. A 25-year old malt might not be as nice for you as a 21-year old or a 10-year old. I tasted whiskies with people I met on the trip and everybody had different ideas. By the way, I did not drink whisky in the distilleries, because I was driving. I took away miniatures or filled up my little hip flask. Back at the camp site, when the traveling for the day was done, I would sit down and try the whisky.
How does your body feel after drinking whisky for 3 weeks?
Good! The quantities were not enormous. With whisky you don't knock it back, you savor it. At least with special whisky, because you really want to appreciate it.
There is a lot of romance and story-telling around whisky in promoting it. In your experience, does the real thing live up to the label and is your book an extension of those stories or do you tell it as it is?
I tell it as it is. Scotland is a very traditional place, and that is all part of the charm of the place.
So you can't really escape all the myths and the tall tales?
Some distilleries play that up more than others. They really go for the tartan, bagpipe-playing kilt-wearing thing. Which is fine. Those are generally the distilleries with bigger visitor centers. On the other hand, you get distilleries that don't go into that. They make their product and let it speak for itself. They know they're making a good product.
You include the letters you received from distilleries in the book. Does it act as a kind of introduction to each distillery? A departing point?
I included the correspondence to make it more personal. I wasn't just visiting a factory, I was visiting people. The people who make the whisky are as important as the product itself. Some distilleries are over two hundred years old and so they see themselves as caretakers. Distilleries, particularly the more remote ones, are like close communities with many people working there for decades.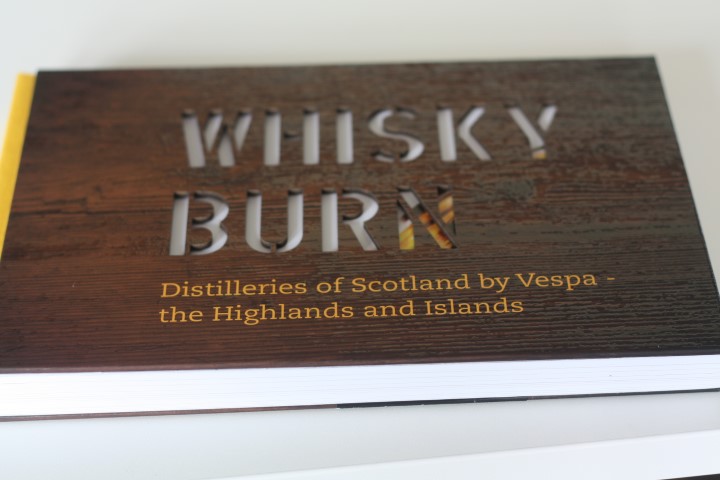 How should one read this book? In small doses, like drinking whisky?
There are three ways you can read it: as a reference catalogue, as a travel guide, or a narrative. You could dip into it and say: "Well I have a particular whisky so I'll go and read that section. See what happens in that distillery." You could also use it as tour guide for a trip to Scotland, or just read it as a story.
Has your taste in whisky changed after this trip?
It has. I think it's linked to my experience of the distilleries. When I came back, a favorite was Octomore from Bruichladdich, which is one of the smokiest on the market, and that is probably because I had such a good experience of that distillery.
Finally, as an insider, what is the proper way of drinking a whisky?
The glass is quite important. They recommend a tulip-shaped glass as it concentrates the bouquet (smell) of the whisky at the top of the glass. There are different ways of drinking it, but the classic one is to hold the glass, turn it till you see the liquid coat the inside of the glass and you see the legs coming down. This can tell you things like how strong and oily a whisky is and says something about the technique they've used. Then, they say, you should bring it to your nose three times, see what different things you can smell the first time you come into contact with it – like the floral or peaty notes. Whisky drinkers don't put their nose in a glass because it's too overpowering. People have various theories about how to taste it. An interesting one is that the first sip should be a very small sip – just coat your lips, see what's going on there. Then, take another sip and let it onto tip of your tongue. You might get the saltiness coming through. After that, allow yourself a sip and get your whole mouth coated, which is when you start to identify the other notes, the honey, the citrus, the whole flavor profile. It would be a great job to have – to be a whisky taster or a master blender. However, recently I visited a distillery in Ireland and the master blender there said: "You try getting up in the morning to go down to the warehouse and tasting 150 whiskies, then see how you like the job!"
*For more information and to order Whisky Burn go here.
by Anesca Smith