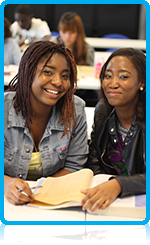 WUAS currently has 34 students from Africa - ranging from countries such as Zimbabwe, Cameroon, Nigeria to Libya. However, a recent study by Campus France has yielded interesting answers pertaining to the question of African student mobility.
For many years France has been the destination du jour for students from Africa. And while it remains the most popular - attracting 29% of all 380 376 African students studying abroad - the report by Campus France shows that South Africa is gaining rapidly on France's lead, rendering the question whether Africa is becoming more attractive to African students.
Not only does South Africa sit pretty as the second most popular academic destination for African students, but it also has the highest growth rate. Between 2006 and 2010 there was a fall of 1% in the number of African students enrolled in France, but a 28.8% increase in those choosing South Africa.
Currently the most popular countries for African students are:
France (29,2%)
South Africa (15,1%)
Britain (9,7%)
United Stated (9,7%)
Germany (4,7%)
Malaysia (3,9%)
Canada (2,9%)
Italy (2,0%)
Australia (2,0%)
Morocco (1,8%)
Angola (1,7%)
The report notes those who leave generally want to "widen their cultural and intellectual horizon, or find knowledge and skills to give them a competitive advantage in the job market". African students typically leave their countries because the universities there have insufficient resources or do not offer the required education, says the note.
The Netherlands has recently adopted its Modern Migration Policy Act which simplifies the application procedures for students wanting to come and study here.
In addition, a comprehensive plan on binding talented, foreign students to the Dutch economy will also be presented by the cabinet in autumn, the minister of education Jet Bussemaker, said last month.
Besides South Africa, the report by Campus France has also revealed Morocco and Angola are emerging as popular academic regions. The reasons for this surge?
South Africa - which principally caters for students from English- speaking countries such as Zimbabwe, Namibia, Botswana and Lesotho - is described as "less bureaucratic" than Europe or the US when it comes to obtaining visas. It is also seen as "accessible, dynamic and stable" as well as less expensive. Its public universities are of high quality.
Furthermore, South Africa has developed massive online open courses (MOOCs) and distance education programmes represent 40% of education dispensed by its universities.
Morocco, which catered for 6,996 African students from abroad in 2010, hopes to attract more by offering a high quality system, including properly accredited private institutions and branches of French and other foreign universities, at lower cost to students than in Europe. Courses are diverse, and the disciplines that are mostly chosen by students from other African countries include medicine, engineering and administration.
Angola, with 6,530 foreign students in 2010, caters mostly for those from its Portuguese-speaking neighbours Cape Verde and São Tomé and Príncipe, followed by students from the Democratic Republic of Congo, Guinea-Bissau and Mozambique. According to the report, it serves to fill gaps in students' domestic higher education systems.
The top countries of origin for African students studying abroad are:
Morocco (11,3%)
Nigeria (10,2%)
Algeria (5,9%)
Cameroon (5,3%)
Zimbabwe (5,2%)
Tunisia (5,1%)
Kenya (3,5%)
Senegal (3,1%)
Egypt (3,1%)
Botswana (2,3%)
The report also noted China's growing influence on Africa - including in the academic field.
China is Africa's biggest economic partner, followed by France and the US.
In 2000 China announced, among other measures, the creation of cultural and linguistic centres in Africa – the Confucius institutes – and a doubling of study grants for Africans, principally in the areas of medicine, agriculture, languages, education, economics and management.
There are now 387 Confucius institutes in 94 countries, 31 of which are located in universities, in Benin, Botswana, Cameroon, Egypt, Ethiopia, Ghana, Kenya, Liberia, Madagascar, Mali, Morocco, Nigeria, Rwanda, Senegal, South Africa, Sudan, Togo, Tunisia and Zimbabwe.
According to the Student Registar Santosh Aryal, WUAS started receiving a few students from Africa in 2004, however since 2007 African students have continued to grow, with 34 of 200 students currently making up a significant proportion of the student community at our growing management institute! We look forward to welcoming more students from African countries in September!'
WUP 08/8/2013
by Anesca Smith

©WUAS Press