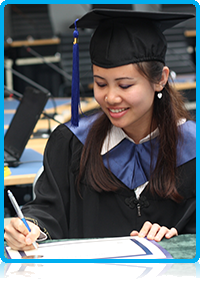 WUP 18/7/2013 - This month Last Friday, a group of Wittenborg's International and Dutch students received their Bachelor Degrees, and talked about their experiences at Wittenborg during the past years. Anesca Smith spoke to Honors graduate Min Tran, from Vietnam. What is the secret to graduating top of your class? "Managing your time smartly," says popular Vietnamese student Min Tran. And she should know. Min graduated with honors at Wittenborg University's graduation ceremony last Friday, along with 20 of her peers.
Min gained direct entry to the 3rd phase of the IBA course when she started with her studies at Wittenborg in September last year, specializing in Marketing and Communication.
Before coming to the Netherlands, she completed a three year business course in Singapore.
Why did you choose to study at Wittenborg University?
I did a lot of research on universities before I came here - mainly looking at Holland, Germany and Switzerland. I chose Wittenborg because it offered the most suitable programme with course content and the duration of studies. When I contacted the front desk, they were very professional and helpful. That played a big role in my decision to come here. I wanted exposure to Europe and my parents insisted that (a Bachelor degree) be the minimum qualification I obtain.
What was your first impression of Holland?
Bicycles! Everyone was apt at cycling with one hand while sipping a coffee with the other - drinking and driving. In Vietnam we use motorbikes. Cycling is only for high school students. The list of things I liked about Holland is very long. For instance, Dutch people are very helpful. I travel a lot in Europe and the Dutch are quite fluent in speaking English - unlike in Germany, Italy or France where it is sometimes difficult to communicate. What I didn't like so much here is the weather! I missed the sun and going to the beach – although its surprisingly hot here now!
Has your impression of Holland changed while here?
Not really. Before I came, I had this image of a nice, peaceful country with tulip flowers and farmers milking cows. I still feel the same. But maybe Apeldoorn was a bit too quiet for me. I am used to living in cities. And the winters here are very long - you feel there are no people around when it gets to 6pm in the evening.
What was your experience of the immigration procedures for the Netherlands?
When we came over to Holland it took 2 or 3 months to get a residency permit. I heard of the new Modern Migration Policy Act (which was implemented on 1 June 2013) that would speed up the process. I wish they had that when I came here.
What survival tips would you give prospective students to the Netherlands?
They should try to adapt by stepping out of their comfort zone and try to mingle more with the locals and other students. The idea at Wittenborg is that of an international environment but some people still keep to themselves and their own groups.
What can be done to make students' stay in Apeldoorn more pleasant?
To organize activities frequently - at least once a month. So the student have a stronger bond with his or her surroundings.
Did you live in the students accommodation?
No, I got some help from the local people and lived with a Dutch family. They treated me like a member of the family. They came for my graduation and will visit me in Vietnam.
Who was your tutor and how was it working with him?
My tutor was Rauf M. Abdul He has very high expectations of his students and that is good.
Which subjects were your favorite?
I liked the language classes. I did Spanish because I love traveling there.
Which were the toughest?
The most difficult subject for me was Information Management. The concepts were difficult to comprehend.
What tips would you give students wishing to attain the level of success you had?
Believe it or not, like everyone else I occasionally came late for my classes and one of the lecturers (Adeyemi Banjo) was always telling me: "Min, can you put your phone down." when I was playing with it in class. But seriously, if you want to do well, you need to motivate yourself and manage your time correctly. I am someone who loves traveling and that was my motivation. I would do my school tasks as soon possible and concentrate fully on that for a few days so I could be free to travel.
What will you do next and what is your ambitions for yourself?
First I will fly back to see my family and friends in Vietnam and spend a few months with them. I worked in sales before, but I won't go back to doing that. I wish to start my own business, but have not thought things through yet.
WUP 18/7/2013
by Anesca Smith
©Wittenborg University Press