The Vacation Of Irene & Salma: Exploring Each Other's Countries.
Studying at an international school like Wittenborg University of Applied Sciences allows students to meet people from many different countries and build memorable friendships. This is the case of Irene Vieira, from Greece, and Salma Sierra, from Mexico, who met back in 2019, and this summer they had the opportunity to visit each other's countries and learn more about their cultures.
Irene Vieira is 22 years old, and is half Greek, half Portuguese, but was born and grew up in Luxembourg. Having a multicultural background gave Irene the chance to speak fluent Greek, Portuguese and French. Moreover, she learnt English and Spanish. Currently, she is in the final year of her bachelor's degree studies in MCI Marketing & Communication.
Salma Sierra, also 22, comes from Mexico City, Mexico, and joined Wittenborg in February 2019 to start her bachelor's studies in IBA Economics & Management. Currently, she is in Phase 3 – the last year - of the study programme and expects to graduate at the beginning of 2022.
Both Irene and Salma love music, dancing, and social gatherings, and that is how they got to know each other. Irene, who already speaks fluent Spanish, not only found in Salma a person to practise the language but also a friend to share free time together.
During the 2020, Irene spent the pandemic lockdowns between Luxembourg and Apeldoorn, whereas Salma spent the whole year in Mexico due to the travel restrictions, and it was not until February 2021 when flights opened that she could come back to Apeldoorn.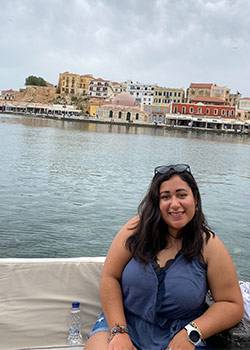 Planning trips
During the first semester of this year, Irene and Salma had the chance to spend more time together, and this also made their friendship grow further. As the summer was approaching and travel restrictions gradually loosened, they both planned to visit each other's countries.
In May 2021 came the trip to Greece. Irene introduced Salma to her family and friends, and also showed her the country, local Greek food and traditions. Salma had never been to Greece before and getting to know this beautiful country in the company of Irene was the perfect way to do so. They visited Chania, located in the island of Crete. What Salma liked the most was the beautiful views next to the Mediterranean sea, the local food, and the happy and welcoming atmosphere of the country. Moreover, being able to relax at the beach was the perfect plan after the stress caused by continuous lockdowns and a travel ban that kept her away for a whole year.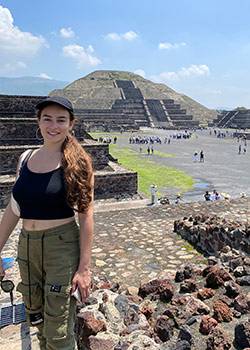 Later on in July , it was the turn of Irene to visit Mexico. Irene had never been to Mexico before. She had high expectations because she loves the Caribbean, Latin American cultures and already speaks Spanish, and Salma had told her before what Mexico looks like and all the places to visit there. Upon arrival, Irene was welcomed by Salma's family, and for 3 weeks, they took Irene to visit Mexico City, Acapulco, and Teotihuacán, the place where the magnificent pyramids built by ancient indigenous tribes like the Mayans are located. Also, sharing with Salma's family gave Irene an insight on how the local culture, food, and traditions are.
Now they are both back in the Netherlands after a wonderful cultural exchange experience.
WUP 20/8/2021
by Laura Serrano
©WUAS Press