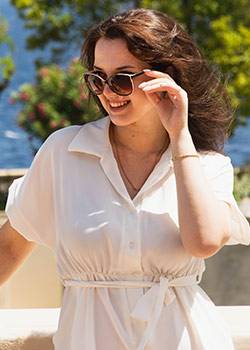 Anna Timofeeva's Re-flourishing Passion For Photography
After several years of being disconnected from one of her most cherished hobbies, photography, HBA Event Management student Anna Timofeeva has been able to reconnect with her lost passion during the summer, her most recent works inspired by travelling and people portraits.
Anna Timofeeva, from Moscow, Russia, is a 22-year-old student of the HBA Event Management bachelor's programme. Currently, she is in Phase 3 (final year) of her studies at Wittenborg and expects to graduate at the end of Block 2 of the upcoming academic year.
Last year was not easy for her, as she relates; the pandemic and all its consequences, such as lockdowns, travel restrictions, the shutting down of the hospitality sector, affected her physically and emotionally. Nevertheless, by December 2020, she was able to visit Moscow for a month and meet her family after a long time. Also, 2021 has brought more positivity to her life and experience as an international student in the Netherlands.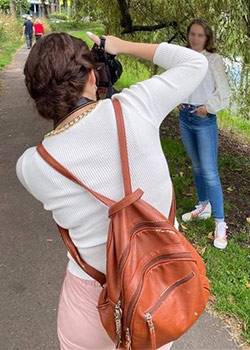 Reconnecting with photography
During this summer, Anna Timofeeva has been able to go back to working at a hotel, where she performs multiple tasks for the hotel's restaurant as well as for events. Moreover, she has been able to reconnect with a "forgotten" hobby of hers: photography.
When she was 14 years old, Timofeeva got from her parents her first camera as a present and fascinated by the quality of pictures she got into photography. Supported by her mother, who suggested she went to photography school, she was able to attend some courses. Later on, for about 2 years, she did freelance works of photography, sometimes paid, being able to put away some money. However, at the age of 17 she left behind photography in order to focus on her studies and exams.
It was not until this summer that she picked up her hobby again. She decided to create her Instagram blog A.T Photography where she shares her newest work, mostly focused on portraits and travel photography & lifestyle.
Over the past weeks, she has visited for the first time the city of Nice, France, and the Principality of Monaco, where she was impressed by the beauty of nature, the architecture, the luxury life of the inhabitants and the great local food - especially in Nice. This experience has inspired and motivated her to be more active and explore places after such a long period of restrictions. Furthermore, that spark of interest in photography is back.
WUP 2/8/2021
by Laura Serrano
©WUAS Press