Warm Send-off for Wittenborg's Beloved Admissions Manager in Amsterdam
Admissions Manager, Yanti Setiawan, Praised for "Human Approach" in Dealing with Students and Colleagues
After vetting thousands of hopeful student applicants and guiding them towards their dream of studying abroad, Yanti Setiawan, Wittenborg University of Applied Sciences' Manager Admissions and External Relations, is leaving the institution to return to her home country, Indonesia. Setiawan said in an interview that working in the Netherlands has been an unforgettable adventure where she gained lots of valuable work experience.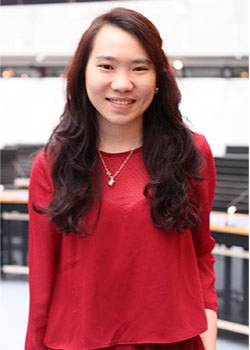 Fittingly, she was given a warm send-off by colleagues this week who had nothing but high praise for her work ethic and professionalism. Student Registrar, Florian Oosterberg, described Setiawan as "great to work with, reliable and a good communicator who keeps a cool head under pressure. Her human approach in communicating with others is what made her such a great colleague."
Initially, Setiawan joined Wittenborg in 2015 as a master's student doing an MSc in Tourism. After graduating, she joined the admission team in Apeldoorn as an intern, eventually working her way up to admissions manager at Wittenborg's Amsterdam campus. Setiawan said she loved working and living in the city and enjoying all its cultural offerings. "The campus is near the (football) stadium, so I could go to concerts on the spur of the moment. There are plenty of restaurants and entertainment in the city, plus many of my friends live in Amsterdam so it was easy to get together."
Setiawan has received a job offer to work as head hunter for a big company in Indonesia and she looks forward to being close to her family and friends there. "I have mixed feelings about leaving the Netherlands. It is such a great country to live in, but at the same time I really missed my family in Indonesia."
She said working at Wittenborg gave her confidence a great boost. "When I arrived as a student, I would not even dare to speak up in class. Now you can ask me on the spot to give a presentation to students and I'm ready in 5 minutes." Working with so many internationals has also taught her a lot. "In the Netherlands I appreciate how much the Dutch value punctuality and their directness. They are very clear in their expectations and intentions. In Asian countries it is common to eat noisily - it shows that you appreciate the food. In the Netherlands it is impolite to do so."
She said two things she loved the most about her job were her colleagues and working with prospective students. "Having been an international student myself, it was nice sharing information with students about studying here, adjusting expectations and giving them advice. I enjoyed the conversations and probably had thousands of them."
WUP 1/7/2021
by Anesca Smith
©WUAS Press