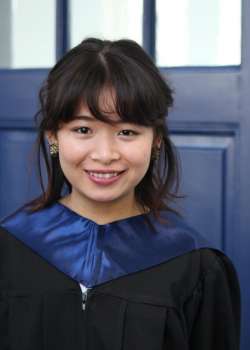 Vietnamese Student from Wittenborg Wows 5star Hotel
The 5-star De Echoput Hotel & Restaurant in Apeldoorn had such a positive experience with a student from WUAS that it wants to continue cooperating with the institution.
Vietnamese student, Trang Ta, did an internship with De Echoput in 2017, helping out in the marketing and communication department. She graduated with an IBA in Marketing and Communication last month.
De Echoput is Apeldoorn's only 5-star hotel, and is well-known in the Netherlands. It is now setting its eyes on gaining international prestige.
The fact that Trang does not speak Dutch posed no problem for the hotel. Instead, her creative background in photography and design was deemed a valuable asset and was practically applied to the benefit of De Echoput.
The hotelier and owner of De Echoput, Mr Karel Klosse, said: "Wittenborg supports us in furthering our professionalism and internationalisation. We have many ideas in terms of our restaurant and hotel services where interns from Wittenborg can be of assistance. The positive experience we had with Trang has lead to a continuation in cooperation."
Another IBA student from Wittenborg, Muhammad Usman from Pakistan, will also start work at De Echoput soon. He will be tasked with doing a feasibility study on the internationalisation of the hotel and restaurant's services. De Echoput gradually wants to grow from a Dutch 5-star to an internationally renowned 5-star hotel and restaurant.
For further information on having international interns from Wittenborg, please, contact Bert Meeuwsen (MBA Med) or Myra Qiu.
WUP 26/3/2018
by Anesca Smith
©WUAS Press