Vienna Students at Diplomatic Ball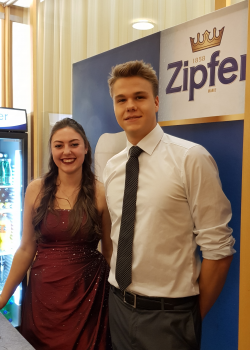 Hospitality students from Wittenborg Vienna recently got the chance to attend and work behind the scenes at the prestigious Diplomatic Academy Ball in Vienna.
The ball was organised by the Diplomatic Academy of Vienna, a postgraduate professional school, dedicated to preparing talented men and women for positions of leadership and international careers.
Wittenborg's Hospitality Business Administration (HBA) students were asked to help with setting up the event and working behind the bars. "Students had to attend a special cocktail mixing class for this event, but as they were already seasoned cocktail drinkers this presented no problem at all!" said Tim Birdsall, Wittenborg's international sales director.
As with most of the balls in Vienna, the proceeds go to charity, and in this case, to the St Anna Kinderspital, a children's hospital specialising in cancer treatment.
Wittenborg looks forward to supporting the event again in 2019.
WUP 4/3/2018
By James Wittenborg
©WUAS Press