WUAS recently announced its partnership with the vocational institute EWS (Europa-Wirtschaftsschulen Wien) in Vienna, Austria - signifying its first transnational move. We spoke to Thomas Lung, Head of Educational Programmes at EWS, about what makes Vienna a "perfect" city for international students. He is on a 2-day visit to Wittenborg this week.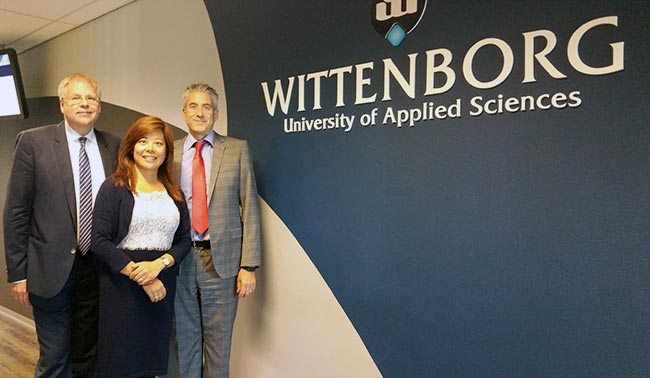 What do you like about Vienna?
Vienna was named the best city in the world to live in earlier this year. According to research done by Mercer it offers the best quality of life. Once it was the heart of the Austrian-Hungarian empire- a melting pot of ideas. Around 1900 it was considered the most important city in the world
What is the city's attitude to internationals?
Vienna is very open-minded. Not the whole of Austria is like that of course. We are the second largest German-speaking city in the world after Berlin.
How long have you been at EWS?
I have been at EWS for 25 years. The first 6 years was only part-time because I was also working in the import-export business. I started teaching on Fridays and Saturdays and then in 1997 I started working fulltime at EWS. I took over lectures in business administration management and economics before proceeding to my position as head of educational programmes. In respect of my own educational background I had two periods of study. The first one was in commercial sciences or business administration at Vienna University of Business and Economics. I then did translation studies: Italian and English.
Why Italian?
I started Italian at school. I went to a commercial high school and had to choose between French and Italian. I was very good at it and even won a prize for an essay I wrote! I then continued studying it at university.
Do you have a favourite Italian word?
Maché! It a typical Italian gesture, which means: "What a pity!"
How did you become a full-time educator?
In the end I had to choose between business and education, but my heart was always with education. It is my passion: to have a non-competitive relationship with people. When you teach, you can transfer meaning and values. In business, you communicate but always for the sake of the business and in the end you have to make the deal.
In the end it comes down to the bottom line?
Yes! I realized being in education is better for me. You can transfer skills and give advice without having to worry about whether it's good for business. You can focus on people. The most important skill for teachers is learning how to talk to people. You must love people. Also, don't stop learning. Constant learning is the path to success. Finally, you must be a translator – you must grasp the meaning, find out what the audience knows about it and transfer the knowledge. You must reduce complexity and find examples that are of interest to them (the students).
Why is EWS a good fit with Wittenborg?
Wittenborg is an international institute offering Bachelor and Master degree programmes. Sometimes students fear a Bachelor is not enough so they want a Master degree. More and more people have Master degrees - it is considered to up your chances on the labour market. You don't always need a Master degree for a job, but Austria is very title-orientated – you print all your titles on your business card. And if you don't have an academic title you want a functional title! In other countries it is less relevant.
Many entrepreneurs don't have a formal education. Entrepreneurship is something you must live. You can teach students how to make a business plan and how to develop a strategy, but you can't teach determination. That inner quality has to be there. As an entrepreneur you don't need certificates, but if you want to be employed or considered a dependable worker you have to show a record of your capabilities.
Do you also try to instil drive in your students?
Yes. I tell them to find a job that really motivates you – it must light a fire in you.