Updated Education & Examination Guides - Welcome to a New Academic Year
We are pleased to announce that the Education & Examination Guides for the bachelor's IBA, EBA and HBA programmes have been updated and published online.
Education & Examination Guide Bachelor Programmes International Business Administration
(View Online)
Education & Examination Guide Bachelor Programme Hospitality Business Administration
(View Online)
Education & Examination Guide Bachelor Programmes Entrepreneurial Business Administration
(View Online)
WELCOME TO WITTENBORG UNIVERSITY OF APPLIED SCIENCES!
I would like to extend a warm welcome to all new students and all returning current students to our institute, and am sure that the new academic year will be even more fruitful and successful than the last academic year.
This year we are pleased to welcome students in both our main campus of Apeldoorn and at our campus in Amsterdam, and for the first time at our new location in Vienna.
With 6 starts a year for most of our programmes, some of you will be reading this at the start entries of September, October and December, however some of you will only have started in February, April or even May. This dynamic approach to education will make your experience a 'real life experience', with students entering and leaving a phase at different times – just as in the real world of work.
If you have just started your Master of Science degree, or a BSC / BA double degree programme with the University of Brighton, you will also be experiencing a unique blend of transnational higher education, that sees the benefits of public and private universities working together to offer top quality degrees in joint taught programmes.
If you have entered into our MBA programme, you will be challenged by a double accredited intensive and rewarding experience. From this year we also plan to offer our MBA students the opportunity to study in Amsterdam.
Our Continued Mission Statement in 2017-2018
WUAS sees its role as the education and training of highly qualified, internationally minded, socially responsible and intercultural, critical and independently thinking graduates, who engage in innovative and creative business in companies and organizations around the world, either working for others or in the instigation of business and entrepreneurship.
To achieve this, the university engages in close dialogue with industry, government and NGOs. Wittenborg strives to bring expertise, knowledge and diversity to the local region in which it operates, thereby enhancing the economy, culture and social environment around the university.
Wittenborg's outlook is global and it aims to maintain its independent status whilst being one of the most international and diverse higher education institutions in the Netherlands. The university promotes total equality of students and staff, of cultures and genders and people with disabilities within the institute. Wittenborg promotes a working environment that is fair, and emphasises respect between and within its student and staff body.
The practical applied sciences that are engaged within Wittenborg's programmes enable the University to maintain up to date content within a diverse range of management orientated disciplines and implement curriculum to the highest modern education standards.
As a University of Applied Sciences, Wittenborg sees as important an interdisciplinary approach to higher education, which is reflected in the cross-disciplinary broad management programmes that allow students to develop their knowledge, skills and development through applied research in a manner that is not subject constrictive.
Wittenborg's goal is to continue developing itself into a broad management orientated University of Applied Sciences, with a strong international characteristic. Developing in various professional fields such as Business & Entrepreneurship, Hospitality & Tourism, Arts & Technology, Sport & Health and Education Management.
The university will maintain quality through maintaining a vigorous and transparent accreditation cycle for its programmes, ensuring dialogue with its students and staff through their active involvement of the accreditation and validation processes.
Wittenborg will strive to continue developing new methods of teaching and learning that meet the changing needs of society and technology.
Within its role as a higher education institute the university also supports life-long learning through the development and implementation of up to date and industry driven professional programmes aimed at corporate employees and individuals.
Invitation to the Wittenborg 30 Gala Evening 10 November 2017 at the City Hall
In 2012, Wittenborg celebrated its 25th Anniversary, and at the time launched its ambitions for the coming 10 years. Now, 5 years on, we are preparing to celebrate 'Wittenborg 30' with a series of events, that commenced in the spring of 2017 and will conclude with a Gala Evening to which you are all invited, to be held on the 10th November at the City Hall in Apeldoorn.
The celebrations will conclude with a wonderful intercultural gala evening in November, and students will be involved in the events throughout 2017.
Continuing Development
5 Schools
Wittenborg offers its programmes and carries out research in 5 different areas, managed through the schools of business, hospitality & tourism, sport & health, arts & technology, and education. Most of you will be following programmes in the School of Business and the School of Hospitality & Tourism, however some students will be following programmes in the developing schools of Health & Sport, Arts & Technology and in Education.
This year will see the launch of the Full Force Sports academy in Apeldoorn, with which Wittenborg is working closely, and which will provide sports training and facilities for all our students, as well as an exciting sports-orientated study facility for our undergraduate sports & business management students.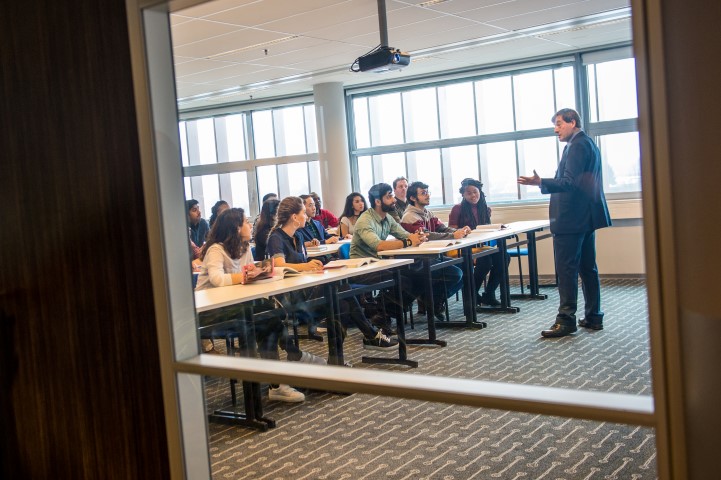 Double Degrees
The additional validation of our BHM and EBA programmes by the University of Brighton, allows us to offer them as double degree programmes and means that they are the first 'triple-accredited' bachelor degree programmes in the Netherlands!
In Amsterdam, Wittenborg will see its EBA double degree bachelor's programme in entrepreneurial business administration, offered by the School of Business, grow further as Phase 2 and Phase 3 modules are now also offered.
Phase 3 is completely joint delivered with the University of Brighton's Business School, bringing a strong UK flavour to the teaching & learning. Graduates will receive both a Wittenborg BA degree and a BSc in Business from the University of Brighton.
Wittenborg's partnership with Study Group in Amsterdam will continue this academic year, allowing us to share the facilities in the spectacular central location of the Up-Building, situated at the water next to the central railway station.
The double degree in International Hospitality Management currently combines the programme IBA in Hospitality Management, accredited by NVAO and FIBAA and the University of Brighton validated BA (Hons) in International Hospitality Management.
Vienna
Students choosing the EuroBA pathway of the double degree in hospitality management will be offered Vienna as study location for the 2017-2018 semesters. This is part of a further development of Wittenborg programmes at a new Vienna location launched in 2017.
The Master Programmes – Joint MSc Programmes and the MBA
This year the Master of Science programmes, in International Hospitality, International Tourism Management and International Event Management are being offered to new students and last year's pre-Master group. These exciting 1 year MSc degree programmes are offered jointly by WUAS and the University of Brighton, and are now joined by a new MSc degree, the Master of Science in Sport Business Management.
The MBA programmes, that follow the same block system as the IBA, with 6 entry points, have now been expanded to include new specialisations, in Finance, Technology, Healthcare, Sports Management and Education.
Master Scholarship for Wittenborg Graduates
We are pleased to be able to continue the policy that all Wittenborg's bachelor's graduates, past and present are automatically provided a 3000-euro scholarship towards the fee of the MSc and MBA programmes, whenever you choose to follow them.
Research
In 2017-2018, Wittenborg will continue investing and participating in specific research projects, both at local, regional and international levels. If you want to be involved in research programmes at Wittenborg please as your Process Tutor to put your ideas and ambitions forward to the Research Centre.
The Newsletter & News
The WUAS Press (WUP) team is always on the lookout for budding writers who would like to contribute interesting articles or papers to the University news pages on the website and on Wittenborg Online. Interested? Contact the editors at newsletter@wittenborg.eu
The Student Representatives
The 'Student Reps' is the body of students who have direct talks with us, as directors about everything concerning life at WUAS. They are involved in the evaluation of education, teaching staff, support services and staff and are an invaluable resource for the university. Normally 2 students per phase, prep year / pre-master and MSc programmes are invited to become a member of the Student Reps. Interested? Please send an email to studentreps@wittenborg.eu
The Programme Committees
Want to make an impact on your own study programme development? From last year a new body was instigated for each study programme, the so-called Programme Committee. Members include both students and teachers and the committee reviews its programme and submits recommendations to management. Interested? – Contact your Process Tutor.
The Student Association
We are pleased to announce that in 2017-2018 we will be once again holding elections for the Student Association, (known as SWIFT), and once the committee is in place we will be allocating budget for SWIFT to organise social and cultural events throughout the year.
That leaves us only to wish you all an enjoyable and productive study time with us, here in Apeldoorn,
Good Luck with your studies!
Peter Birdsall, MA.Ed
Director of Education
Chair of the Wittenborg University of Applied Sciences Executive Board
31 August 2017
WUP 3/9/2017
by Wittenborg