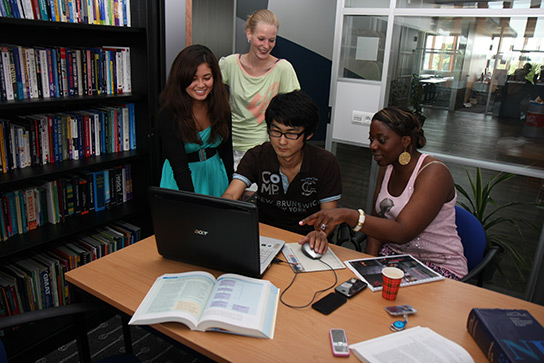 WUAS Press has been looking at the successful approval of Wittenborg's double degree programme in International Hospitality Management, offered with the University of Brighton, at the campus in Apeldoorn.
From September 2015 the Bachelor degree in Hospitality Management at Wittenborg will be a true transnational degree programme, offering students a unique opportunity to gain two degrees from two Universities in two countries and in a combination of two different academic systems.
WUAS now offers its International Business Administration degree in Hospitality Management in combination with a validated Final Year of the Bachelor of Arts in International Hospitality Management of the University of Brighton.
Essentially, this means that all Hospitality Management students at Wittenborg who have completed years 1 and 2 will be able to gain a double degree after year 3. This includes students currently in the first and second years of the programme.
How has this been achieved? - Students from the second phase IBA Hospitality Management have been able to stream into the final year at the University of Brighton since the validated progression agreement of 2009, and the double EuroBA award has been in place since 2013, however now the full final year at Wittenborg has been validated and approved for shared delivery, which means that students do not need to travel to the UK to complete their UK part of their studies.
WUAS is a University of Applied Sciences, and it's programme is 240 European Credits. The University of Brighton, a research University, offers a 180 European Credit programme, which lacks work experience modules. Wittenborg has successfully integrated the University of Brighton modules into its own Bachelor in Hospitality Management, which is one of its Dutch government NVAO accredited suite of business administration programmes. Wittenborg plans to separately accredit its Bachelor Hospitality Management degree, including all the transnational aspects.
Many of the transnational aspects include sheared module design, and an assimilation of the University of Brighton's regulatory GEAR with Wittenborg's own Education & Examination Guide (EEG). The final project has two supervisors, one from the University of Brighton and one from WUAS, and marking is shared between the two institutions, overseen by the exam boards from both institutions, on which a member of each University also sits.
Students in Holland get the best of both worlds - an affordable UK degree together with a Dutch degree that offers then the benefits of the quality of an Applied Sciences degree which shows they have had workplace and industry exposure during their studies.
At Wittenborg Hospitality Management students will benefit fro a further added value to their curriculum vitae - two degrees, one from a UK Research University and one from a Dutch University of Applied Sciences, studied at an exclusive private University in the Netherlands - that should stand out!
WUP 26/7/2015
©WUAS Press
by James and WUAS Press Team