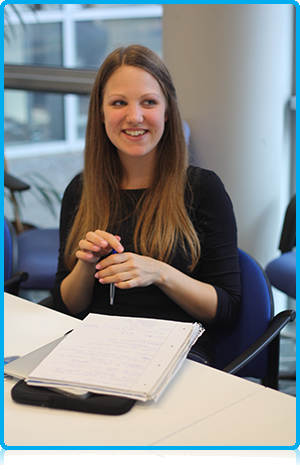 The secrets of a super achiever: Wittenborg's top IBA-graduate Maike Nuyken shares her study tips! What is the secret to graduating at the top of your class? One graduate who knows the answer to this question is German student, Maike Nuyken, who just managed to achieve the highest pass rate ever for a bachelor student at Wittenborg University. Her future plans include opening a small hotel in the Netherlands with fellow honors-graduate, Marius Zurcher, from Switzerland.
Congratulations on your tremendous achievement, Maike. Which degree did you earn?
An IBA in Economics and Management.
What advice can you give other students on achieving your study goals?
I think my secret was to prioritize my studies and focus clearly on them. Try to organize everything around your studies – after all it is three years of your life so it's important to do well. Another tip is to maintain a good balance. Between studies take a break and go for a walk outside to clear your head.
Your final score for your graduation assignment was 9.4. How did you tackle it?
In the beginning it was really hard, I did not know where to start. I needed a lot of time to organize my thoughts around it before actually putting pen to paper. Then I collected the information I needed and structured it.
Would you like to do you Master degree at some point?
Yes, but because I'm starting my own business it isn't really a necessity now.
Tell me about your business plan.
My plan is to start a hotel in Netherlands with (fellow honors graduate) Marius Zurcher. The concept has not completely been worked out, but we are looking at three locations at the moment. Our idea is create a place that is cozy and feels like home, but still modern and simple. I like living in the Netherlands – people are friendly and open, the culture is appealing and the landscape is beautiful. In the Netherlands there is also a better quality of life for the majority of people.
Why did you choose to study at Wittenborg University?
It is small, international, got a family atmosphere and you have six opportunities per year to start and to graduate.
What were some of the challenges you faced as a student?
It wasn't easy to find an apartment, as many people won't rent out apartments to students.
Would you recommend the Netherlands as a study destination?
Definitely – but not as a low-budget one.
In which city did you stay while studying and what were your impressions of that city?
I stayed in Apeldoorn. It was quiet but has everything you need. I enjoyed how green Apeldoorn is, its surroundings of the Veluwe and that it is centrally located in the Netherlands, as well as close to Germany.
Which people at Wittenborg inspired you?
(Senior lecturer) Karin Pelle because she managed to stay so calm, friendly and supportive during project weeks even when things were chaotic and she had to manage so many students.
What advice would you give current/future students about studying in the Netherlands?
Try to learn Dutch and learn about the country and culture and visit different areas and sights.
WUP 8/2/2015
©Wittenborg University Press
by Anesca Smith