From London to Manchester, Wittenborg duo, Florian Oosterberg and Myra Qui, participated for the first time in the popular Student World Fair, UK.
The Student World Fair is a "one-stop-shop" opportunity for UK students to study abroad. On March 16 – 18, the event hosted more than 50 universities from around the world, with over 500 attendees in London and in Manchester.
Ranked as the "4th best choice of place for international students to study in Europe" (Study.EU Country Ranking), the Netherlands surely stands out. Wittenborg ranks as the 4th best small university of applied sciences in the Netherlands, with its main campus in Apeldoorn and the campus of Entrepreneurship in Amsterdam, besides a new campus in Vienna, Austria. The institution prides itself as being one of the most internationally diverse of universities, with over 80 nationalities, which makes it an attractive institution for any student to fit in comfortably.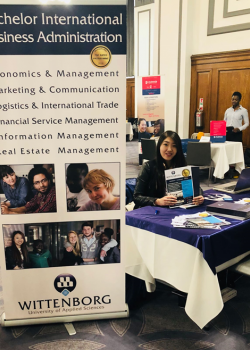 UK students had the opportunity to meet face-to-face with Team Wittenborg to learn more about Wittenborg's full-time bachelor's and master's degree programmes, and as the duo put it, "the fair provided us with a lot of knowledge of the UK market and generated lots of leads. We may repeat in 2019, especially London". The team also had the opportunity to meet with student counsellors and career advisors promoting studying outside the UK, who are also potential partners for Wittenborg.
And what extra activities did they participate in, such as sightseeing? There were hardly any because "it was typical English weather - grey, and some snow, and little free time, so we didn't do much else - but hopefully we can change that next time around!"
WUP 29/03/2018
by Rousanna Baird
©WUAS Press