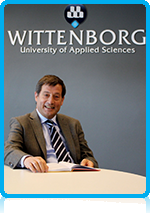 Invitation to join us at the launch of Dr Teun Wolters' book Sustainable Value Creation – City Hall Apeldoorn, June 6 2013 at 12 o'clock. WUAS is pleased to invite all its students, staff and relations to the launch of the first book to be published by WUAS Press! The book "Sustainable Value Creation" written by WUAS's Applied Research Professor in Corporate Sustainability, Dr Teun Wolters, will be launched at a ceremony at the City Hall of Apeldoorn on Thursday June 6th 2013 at 12 noon, at which Dr Wolters will present a signed first copy to Alderman Johan Kruithof of Apeldoorn's municipality.
WUAS Press is mainly responsible for publishing news and opinions on Wittenborg's websites and this book marks the first of the publications directly related to developing activities at the Research Centre, and 'Sustainable Value Creation' will be used as a text book within Wittenborg's undergraduate / Bachelor curriculums.
Look forward to seeing you there!
Programme Overview:
12:00-12:30 coffee/tea
12:30-13:00 official ceremony
13:00-13:30 meet the author and Book Signing with a drink and sandwich
----------------------
An introduction to the book Sustainable Value Creation
'Sustainability' is the latest buzz-word in the boardroom to be welcomed by the environmentally enlightened, ignored by others.
Questions:
What exactly is meant by sustainability?
What is 'Corporate Value Creation'?
How do we ensure that it becomes sustainable?
Why is this necessary?
There is no longer any serious doubt that the limit to economic growth by small or large companies following traditional, time-honoured, business-as-usual trading methods is clearly in sight. The international business community is facing some of the most urgent and serious challenges of our age.
It is time for urgent culture change to ensure survival.
This most informative and useful book, written by a university lecturer with wide experience of the business world, provides clear explanations regarding some of the key issues, including - Strategies to achieve Sustainability; Corporate Governance; Environmental Management & Accounting; Sustainable Supply Chains and The Green Economy.
Dr. Teun Wolters challenges the status-quo, explains the problems, explores a variety of related topics and draws everything together by posing the following fundamental question:
'How can we ensure that those who take ultimate responsibility for running a company, along with their future managers and finance controllers, devise production and promotion strategies to meet the challenges of global markets at the same time as observing international guidelines and regulations designed to protect our future on Planet Earth?'
As Applied Research Professor and lecturer at WUAS, located at Apeldoorn in The Netherlands, Dr Wolters is well-known to his students, who come from many different countries. They all share ambitions to enter the world of international business and management. For them this book provides a valuable source of knowledge and information.
For people already in the 'real world of work' where the issues Teun Wolters describes are part of the daily agenda, this academic overview with a plea to take seriously the whole subject of sustainability will give comfort and support!
WUP 28/5/2013