Surprising Facts about Dutch Bicycles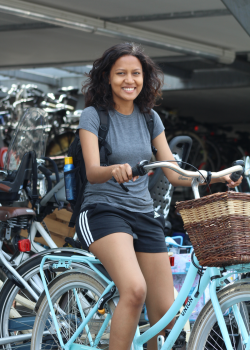 There are also things that will get you a fine cycling in the Netherlands
You have arrived– an international student in the Netherlands. Next stop, getting a bicycle because everyone has one and it will look so cute on your Instagram feed. But hold on, learning to cycle like a native can be harder than it looks.
First of all, Dutch bikes typically come with back pedal brakes – meaning you stop by pedaling backwards – and yes, you're scared to death when you try it the first time. Secondly, most Dutch people grow up cycling and the speed they get up to and level of control they exert can be intimidating. Luckily, it does not take long to get use to both these aspects.
The other good news is that you can get a good second-hand bike relatively cheaply in the Netherlands, so do look at those first before buying a brand-new bike or renting one. The country also has some of the world's best bicycle path networks, so you don't have to compete with aggressive motorists like in many other countries.
DutchNews.nl recently carried an article on what makes the Dutch bike so durable and also traced a bit of its history. It turns out that the Dutch have not been producing bicycles forever – until 1895 about 85% of Dutch bikes actually came from English manufacturers. Royal Dutch Gazelle, the largest bicycle manufacturer in the Netherlands, only began producing bikes under the name in 1902.
So, where do those back-pedal brakes come from? Chris Beer, owner of Beer Fietsen in The Hague, told DutchNews.nl: "Back-pedal brakes are cheap and reliable. Holland is a flat country - in hilly countries when you go downhill back-pedal brakes get too hot. In Germany you have back pedal brakes, but you have to have a front brake too, by law. Here, nobody cares."
In the Netherlands, the women's version of a typical Dutch bike is known as an "omafiets" (grandma bike), the men's is known as an "opafiets" (grandpa bike), and collectively they are called "stadsfietsen" (city bikes).
Stadsfietsen has been shaped by daily urban use. And, according to Marco te Brömmelstroet, academic director at the Urban Cycling Institute, the upright posture gives something extra.
Sitting upright, he says, "makes it easier to engage with the surroundings. It makes social interaction and negotiation possible, which deepens social connectedness. You actively engage with others." Being upright, the stadsfiets makes signalling far easier, and it makes it easier to look around and "respond to incoming information" - all of which is more difficult on a racing bike, where the rider is bent over forwards, he says.
So what are some of the things you cannot do as a cyclists in the Netherlands? According to I Am Expat, the list includes cycling under the influence of alcohol, cycling in the dark without bicycle lights, cycling on the footpath, not stopping at a red traffic light, not having a bell and not indicating right or left.
If you want to look at some interesting bikes from the past and learn about the history, you can visit the National Bicycle Museum Velorama in Nijmegen.

Source: DutchNews.nl
WUP 7/1/2019
by James Wittenborg
©WUAS Press