With international study competition constantly rising, and the arrival of serious Asian competitors on the intense market of study abroad, various study in Holland campaigns are starting to show signs of losing track of the Netherlands' ambitions to position itself as a qualitative possible alternative to the traditional destinations for international students, the UK, USA and Australia.
Recently, an advert was signaled in Sri Lanka, in which the prestigious University of Amsterdam used its top world ranking status as part of an advertising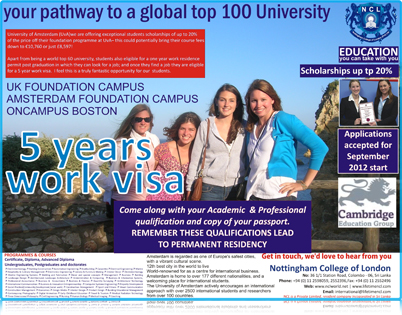 campaign to attract students to the possibility of working in Holland and emigrating to the Netherlands. Although there is a real possibility for non-EU graduates from Dutch institutions to look for work in the Netherlands after their studies, the reality is that many find it difficult to find employment that fulfills the conditions required, and often re-register as students for another bout of study or simply return home. The question is raised however; is it necessary for such a top Netherlands University to promote itself in such a way as a gateway to open immigration to the Netherlands, or would it be better to communicate the possibilities in a more subtle way, and concentrate on their excellent academic offerings?
There are also interesting study in Holland campaigns being forged closer to home, for instance on the website Degrees Ahead (UK) (http://www.degreesahead.co.uk/landing/netherlands/index.html?gclid=COvo_q3bjLECFUGu4godSxyF1g) where Study in Holland is especially promoted as being "cheap", which is not necesarily a good image. The webpage itself might even come across as slightly cheap, in its promotion style, talking about 'Hodgeschools' rather than Hogescholen, and maybe slightly misleading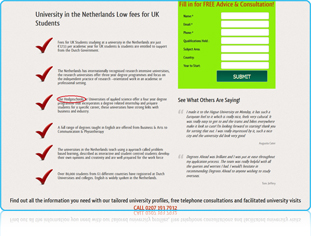 the reader by stating that all schools offer dirt cheap degrees, which is not true, although state funded schools do offer local students their degrees for under 2000 euro, many non funded business schools for instance charge between 4 and 12 thousand euro for their programmes. The page also states that the education in Holland is project based, which is also not always the case (at WUAS for instance, students follow projects in 6 weeks a year, however modules are clas sically lecture based and classroom taught). It is questionable if the Netherlands does well by promoting itself as "cheap".
Study in the Netherlands will face increased competition in the coming 10 years, as it sees the numbers of Chinese and other Asian students decline due to increased competition from China itself, and other study destinations such as Malaysia, Singapore, and Thailand. Even adventurous European students might be more inclined to head off for the sun to study rather than endure the more conservative climate in the Netherlands. Therefore creating a climate of international study excellence, with good employment prospects worldwide will become important selling factors for Holland in the future, rather than selling "cheap" into a mass market.
WUP 10/07/2012
©WUAS Press