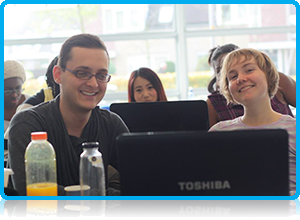 Like Brazil, Russia is starting a major funding project to send their students to study abroad in countries like the Netherlands.
Russian president, Vladimir Putin, signed a decree making grants available for Russian students wishing to study at the world's top universities. The only condition is that students participating in the program needs to return and work in Russia - or pay huge fines.
WUAS currently has one student from Russia, and several from former USSR countries like Kazakhstan, Georgia and Ukraine. The students are following various degrees, such as the BBA in Real Estate Management and the Master of Science programmes in International Event Management or International Tourism Management.
The Russian daily, Pravda, reported that students who earned bachelor degrees in Russia may use the grants to enter into leading universities included in the three world rankings (The Times Higher Education, Shanghai University and Quacquarelli Symonds) to study toward their master degrees or PhD's.
If these students would like to stay overseas after graduation, they would have to pay a hefty amount to Russia that would include all the money spent on the education plus a fine twice as large as this amount as the government is well aware of how tempting it would be for students to remain abroad.
In 2011 Brazil announced its "Science Without Borders" program that allows Brazilian students to spend a year of their university studies abroad, gaining credits at the hosting institution. The aim is for Brazil to stimulate its growing economy by sending their students to countries with a good reputation in higher education and strengthen its own knowledge- economy. The program, which ends this year, provided 75 000 bursaries.
Modern Russia currently lacks personnel and the market is flooded with poorly educated managers.
Does this mean Russian education is inferior to foreign education?
Alexei Bobtsov, Professor: Doctor of Technical Science, told Pravda.Ru that the situation at Russian universities today regarding science leaves much to be desired. "That is, very few Russian scientists are published in major journals or magazines, or cited in databases."
According to Bobtsov the new funding program, which will be run by Russia's Strategic Initiatives Agency (ASI), presents an excellent opportunity to exchange experiences between countries. This is a mandatory condition for the development of science.
The ASI said grants of about 1.5 million rubles (about €33 000) a year will be available to each of 3,000 or so Masters or Ph.D. students over the next three years.
WUAS will visit Moscow in March, in order to introduce itself to study abroad agencies from across the region, as well as meet prospective students.
Source: www.pravda.ru
WUP 19/1/2014