Italian Student Numbers Overtake Chinese Students in the Netherlands
The share of international students in the Netherlands has risen from 10.5% to 11.5% the past year with Italy overtaking China as the 2nd biggest country of origin after Germany.
International students in the Netherlands now represent 170 different nationalities with their numbers standing at 85,955. For the third year in a row, Italy is the country of origin with the greatest absolute growth in student numbers, adding 731 students to total of 4,814 students enrolled in the Netherlands. Neighboring country Germany still supplies the highest number of international students (22,584) to the Netherlands, followed by Italy and China (4,547).
The latest statistics were recently published by Nuffic, the Dutch organisation for internationalisation in higher education.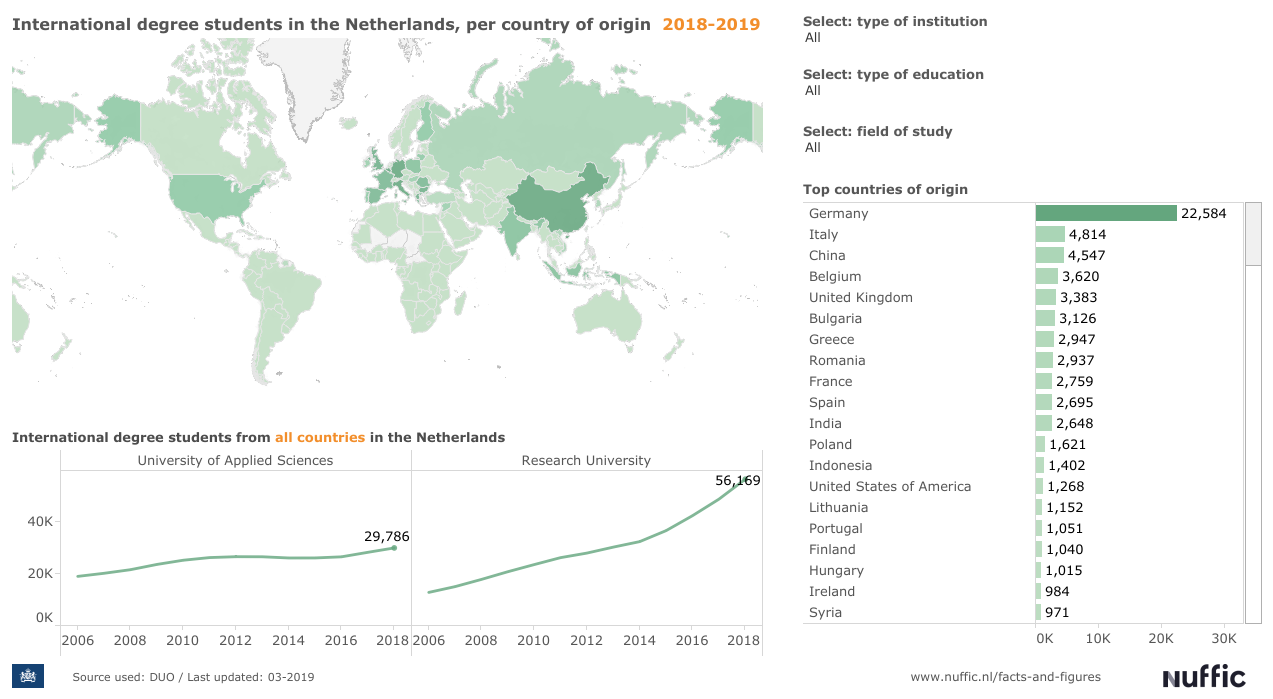 More Students from Outside Europe
More students from countries outside the European Economic Area (EEA) now come to the Netherlands. Over a two-year period, the share of non-EEA students among international students increased from 24.8% in 2016-2017, to 26.9% in 2018-2019.
The 2018-2019 academic year is the first with more international degree students in bachelor's programmes at research universities (30,500) than at universities of applied sciences (27,186). For master's programmes, however, the proportion of international students is much higher. Research universities have 25,669 international master's students enrolled, or 23.6% of all their master's students, while universities of applied sciences (UAS) master's programmes have 2,145 international students who make up 20.5% of all UAS master's degree students.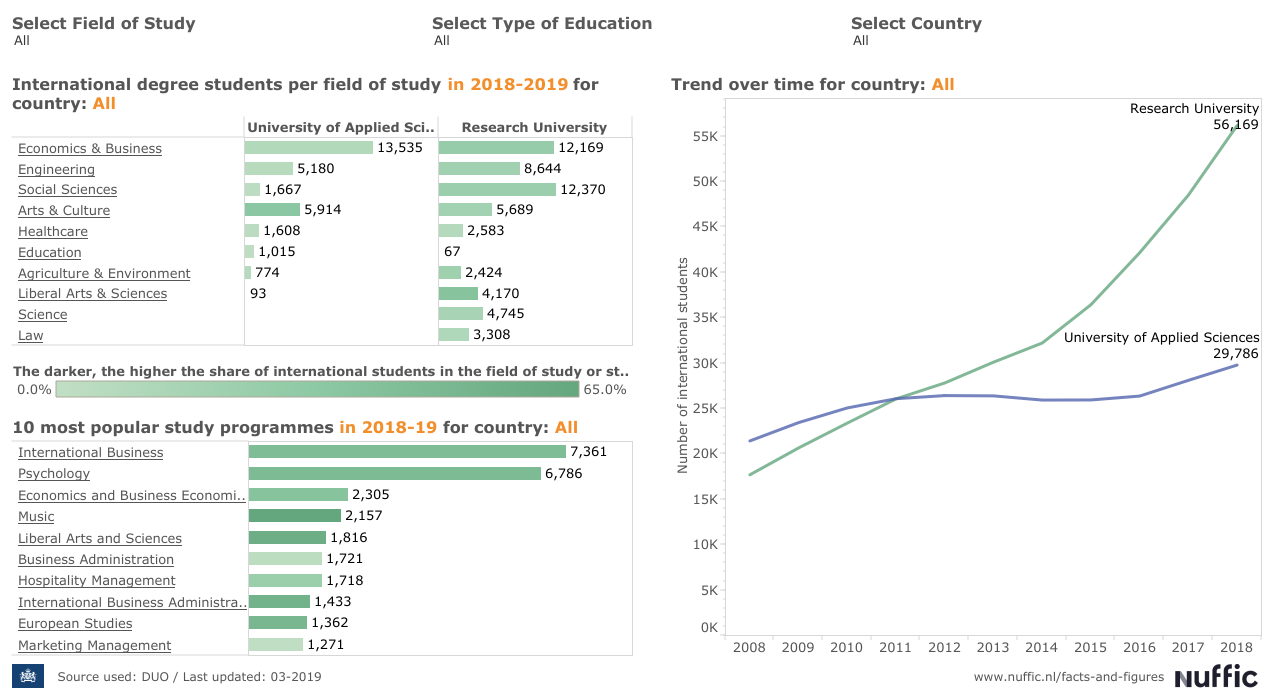 Burden on the Dutch tax-payer?
According to a WUAS spokesperson , "Whilst non-EU students are mostly 'self-funding' and pay higher fees, EU students studying at funded universities are heavily subsidised by the Dutch tax payer, whilst at Wittenborg they pay the same institutional fee as non-EU students. Looking at these statistics, the Dutch tax-payer is currently subsidising around 60 thousand EU students studying in the Netherlands, which amounts to over 400 million euro a year."
The statistics also show also that Wittenborg accounts for around 2% of non-EU international students in the Netherlands.
What Do International Students Study?
At universities of applied sciences, Arts and Culture has the highest relative share of international students. In absolute numbers, the field of Economics and Business has the most international students enrolled with 13,535.
At research universities, Social Sciences surpassed Economics and Business as the largest field of study for international students in absolute numbers. Psychology attracted the most international students with 6,786, also growing the most with 1,369 more international students than in the previous academic year.
WUP 28/4/2019
by James Wittenborg
©WUAS Press