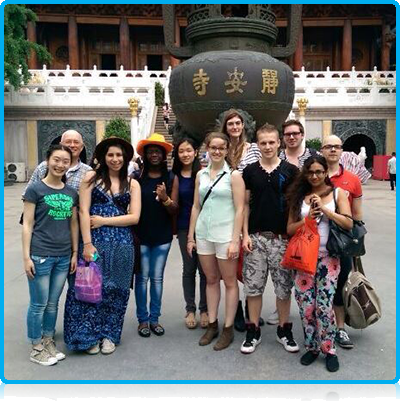 Students wishing to experience life in China can join Wittenborg's annual Shanghai Business Field Trip which will take place from 5 – 14 June 2015. Bachelor, Master and MBA students are all welcome to come along - the deadline for applications is 6 April.
The trip counts as an extra, International Project Week and those who join will receive 1EC. It will combines cultural experiences with educational activities. Those wishing to partake can email myra.qiu@wittenborg.eu
The trip might even give students enough of an appetite for China to do an internship there or seek employment after graduation.
Frank Lenhardt, founder of InterChina, recently had students at Wittenborg spellbound with a presentation on how to best navigate life in China if you're a foreigner and the differences in business culture between China and the West.
Lenhardt is like the pied piper. Listening to him makes you want to up your life and follow him to China where you will find an internship and live happily ever after. He somehow manages this without sugarcoating the problems in the country. His company, InternChina, specializes in facilitating internships and jobs for foreigners in China.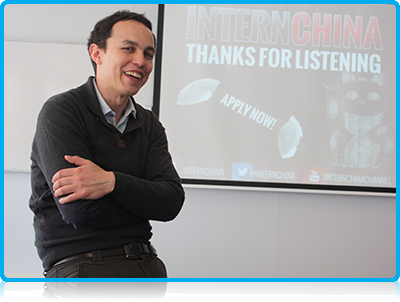 "Normally in a country of this size there would be at least 7 different time zones. In China there is one language, one time zone and one political party," Lenhardt, who has been living in China for 8 years, told students.
According to him huge income gaps in China persists – about 100 million of its 1,4 billion inhabitants live on less than one dollar a day – but it is very much possible for foreigners to find jobs in Chinese or multinational companies there.
Paid internships are not allowed by the government, but some companies will cover accommodation and some other expenses of students.. "In a Chinese company you will not only learn quicker about the business culture in China, but also pick up the language. At the same time, you don't have to speak Chinese to do an internship in a small to medium sized local company. "
Internships are possible from anywhere between 6 weeks to a year. He also recommended to students that they stay with a local family (so-called homestays) rather than on their own in an apartment – unless they fiercely value their independence. "The Chinese are very friendly, but it is really difficult to bond with Chinese people as their inner circle tend to be closed to foreigners. It is important to take the first step if you want to get to know them."
InternChina operates from three Chinese cities: Qingdao, Chengdu and Zhuhai. Lenhardt described Qingdao as a nice beach town which is not as congested as Beijing and Shanghai and close to the Holy Mountains for outings in nature. Chengdu is the fastest growing city in the world with many job opportunities.
More information on InternChina can be found on their website www.internchina.com
WUP 16/3/2015
©WUAS Press
by Anesca Smith