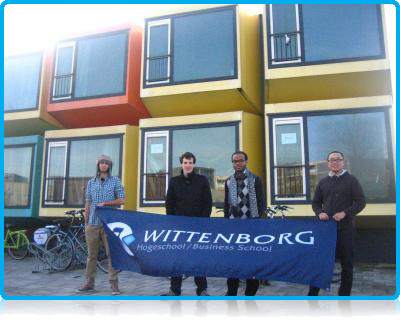 WUAS continues its drive for more affordable student housing in the city of Apeldoorn. Currently a number of longer term projects are being discussed, including the development of empty office space in the heart of the city centre. The key to successful student housing is a balance between the commercial interests of the owners and developers and the non-commercial interests of students and education institutions. (International) student housing is a complicated and sensitive branch, however forms the key for economic growth in a town such as Apeldoorn that is on the one hand looking for higher educated youth in the town, and on the other is currently financially in need of dedicated and sustainable economic growth.
Students coming from abroad to Apeldoorn see the town as the new centre of their world, and each student brings with them an economic growth of at least 20,000 euro (per year) for the region. In some cases even more. The math's is not difficult; a group of 200 students, the yearly input into the direct local economy is 4 million euro per year, year in year out. For towns such as Deventer or Enschede, where the number of international students reaches well over 3000, the figures reach a staggering 60 million euro per year.
Notwithstanding the basic economic impact of international students on an economy, other factors could bring the total value much higher, such as attracting highly educated personnel, researchers, entrepreneurs and ambassadors for the national economy. In Apeldoorn, even every Dutch student attracted to the town to study counts in the equation also, as the municipality is not a traditional student town as such, so therefore students are attracted to programmes because of their content, the international atmosphere, the quality and professionalism, and they invariably come from outside the region, cities in the west, such as Amsterdam, Rotterdam, Breda and the Hague.
WUP 11/5/2012