Students Learn How they Used to Live in the Netherlands
Wittenborg's annual 'Project Week' excursion this year was held at the Open-Air Museum in Arnhem earlier this week. The Open-Air museum essentially demonstrates what it was like to live in the past. Students had a 90-minute guided tour followed by another 90 minutes of free time within the museum. The task at hand for the students was to identify and analyse the museum's market strategy, followed by how they can improve the museum's approach.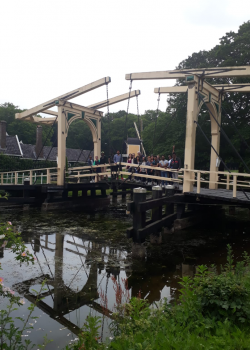 Wittenborg's students were separated into two large groups and brought to the museum by bus. The guided tour commenced towards the beginning of the trip. During the tour, Sri Lankan student Kavindya was startled about what she learnt: "I was surprised about how they had a unique way of presenting the Bible… the creativity and richness in printing the story on tiles… unlike other European countries, such as Italy, which had embraced Roman Catholicism where they mainly used ceiling art, paintings, etc."
Following the guided tour, students were allowed to delve into any part of the museum they desired. Kenyan student Bob Washington thoroughly enjoyed the experience: "It represented the Dutch way of life in a fun and active way where adults and kids can wander around and enjoy Dutch history… surrounded by the nature of the Veluwe."
Overall, the students seemed to have understood the structure/regime the Netherlands used operate under. Furthermore, they evaluated the Open-Air Museum and presented their concluding thoughts during their final presentations in regard to the museum's marketing aspect.
---
WUP 13/06/2019
by Matthew Skelhorne
©WUAS Press