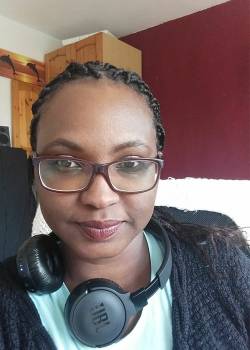 I preferred staying in when it was my choice
Emmah Nyambura Muchoki is a Wittenborg lecturer from Kenya. She considers herself a loner, so this time staying at home has not been difficult for her. However, she is missing the option that she previously had to go out with friends to restaurants and visiting them at any time.
What helps you to stay positive?
Listening to music. My current favourite album to listen to is Flow State by Above and Beyond. It is a meditation and spoken word album. It helps me to concentrate and stay calm.
How are you spending your free time in quarantine?
Online shopping. It has been a new experience because back home online shopping is not as reliable, but now I am able to use it to buy all my electronics so that I don't have to carry them back from the store.
Have you developed any new hobbies during the quarantine time?
I have been busy adjusting, so I am yet to pick up one.
What are some changes you have had to make to your home life to accommodate working from home?
Adding more furniture to my room.
What do you like most about online learning/teaching?
Discussion groups. Unlike the class where students are shy to speak up, all students in the online classes participate actively so they bring in opinions from their home countries, which adds to the learning experience for all students as they are able to relate to the content better.
What do you like least about online learning/teaching?
Time difference with students in places like the US who have to stay up at odd hours to attend lectures.
That is something you now realise that you took for granted before the COVID-19 pandemic?
I'm a loner, to an extent, so I spent most of my time alone, but I like the option of leaving the house to socialise with people and have fun. There are too many factors to take into consideration to plan meetups with friends during this pandemic, such as wearing a mask and going on public transport.
WUP 3/6/2020
by Olivia Kawuma
©WUAS Press